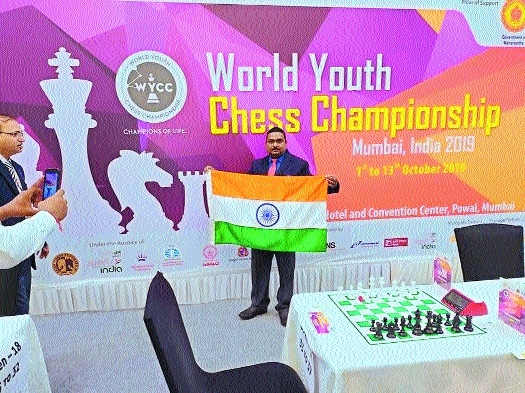 Principal Correspondent :
A WELL-KNOWN chess coach of central India, Nagpur's Umesh Panbude, passed away on Tuesday morning after fighting a battle with COVID-19. Panbude, 47, was the first coach of Nagpur's only Grandmaster Raunak Sadhwani and also coached Vidarbha's first GM Swapnil Dhopade. He was also an outstanding former chess player. Panbude, a FIDE Arbiter, was admitted at a city hospital where he succumbed to the dreaded virus. He is survived by his wife, 18-year-old daughter, 11-year-old son and father. An ever-smiling Panbude was organising secretary of the Nagpur District Chess Association and Tournament Secretary of the Vidarbha Chess Association. He was elected to these posts for his commendable organising capacity. Panbude started his career in chess at the tender age of 10 and never looked back. According to a media release from NDCA, Panbude represented Maharashtra in many national-level tournaments. He represented India in Asian Cities Chess Championship at Lebanon in 2000. He became the Senior National Arbiter in 2013 after successfully completing the examination. He continued his love with chess and devoted his life in coaching players and organising tournaments.
He became a FIDE arbiter in 2018, after clearing the exam held in Thrissur, Kerala. He was an active and well-known coach, especially for beginners since the last three decades. Panbude has been active in the field of chess for 37 years. Due to his dedication and sincerity, Panbude established his reputation in the chess fraternity, not only in Nagpur but in all over India. Many great chess players were initially coached by him including Amravati's Dhopade. GM Sadhwani was shocked to hear the untimely death of his first coach. Sadhwani, who became India's fourth youngest Grandmaster, took to social media to pay his tributes to his 'sir'.
"My 1st coach, who taught me how to move pieces over the chessboard. Always grateful to you sir for your immeasurable contribution in my life," Sadhwani wrote. "When I became GM, he was so, so happy with my achievement and told me that the long wait is over - Nagpur has got its own Grandmaster now. Rest in peace, sir. You will always be missed," Sadhwani wrote on his Facebook and twitter pages along with a photograph of Panbude felicitating him at the Nagpur Airport after the latter returned with the GM title. Chess players from all over the country paid their tributes to the departed soul. "The chess fraternity has lost a great player, an eminent coach, a sincere arbiter and an able organiser. We all wish that his soul rest in peace and God gives his family members enough strength to face this difficult situation," NDCA Secretary Kalyan Kumar Barat said through a release. International Arbiter Swapnil Bansod, too, paid tributes to his senior colleague.
"He (Umesh sir) was the best chess coach in Nagpur. I am shattered by his sad demise. I don't have words to express my sorrows and sadness. I could not even meet him for the last time and I will regret it forever. May his soul rest in peace," said Bansod. "I remember when we worked together in the World Youth Chess Championship 2019, Mumbai. It was a great experience working along with him. We enjoyed a lot during that event," recalled Bansod.