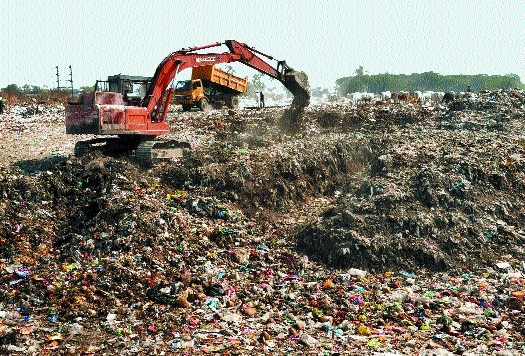 Staff Reporter :
With a view to improve its ranking in the Swachh Bharat Survekshan, the Nagpur Municipal Corporation (NMC) has completed the processing of 4.5 lakh metric tonnes (MT) already dumped waste with the help of bio-mining at Bhandewadi dumping ground. NMC gave the contract of the country's largest bio-mining project to Zigma Global Environ Solutions Private Limited in 2019 to reclaim over 50 acres of land of Bhandewadi dumping yard. Bio-mining is a process where the already-dumped waste is dug up and segregated. The waste is loosened by harrowing and sprayed with composting bio-cultures. Depending on its type, the waste is then sent for recycling, reusing or composting. After carrying out a pilot experiment over four years back, the then Municipal Commissioner Shravan Hardikar had initiated a tendering process for bio-mining.
"The private company will be treating 10 lakh metric tonnes (MT) of solid waste in three years in which 4.5 lakh MT has already treated in two years and remaining will be done till the end of 2022," Dr Pradeep Dasarwar, Health Officer, NMC told The Hitavada. "We are working hard to improve the National ranking of Nagpur in the list of Swachh Bharat Survekshan. We are hopeful that bio-mining project will help us to be in the top ten rank in the list," said Dr Dasarwar. The pandemic and lockdown did not hamper the project and in the next year the company will treat about 5 lakh MT which is going to be an achievement.
NMC awarded this Rs 100 crore project to the company which has vast experience in the field and in this project it is using South Korean state-of-the-art technology for municipal solid waste treatment. Maximum part of the waste will be used to obtain refuse derived fuel (RDF), which will be given to cement factories.
Apart from this, the process will also produce soil which can be provided to the farmers. Nagpur has been doing good in Swachh Survekshan since last 5 years, but, not having a proper solid waste treatment will have negative impact on Nagpur's ranking. Bio-mining is a good technology for treating already dumped waste but we need to have a treatment system for 1,200 MT solid waste being generated every day, said Kaustav Chatterjee, Founder, Green Vigil Foundation. "Proposed Waste to Energy Plant was also a good option wherein electricity was to be generated by treating solid waste by Mass Burn Technology but unfortunately the project could not take off," he added.