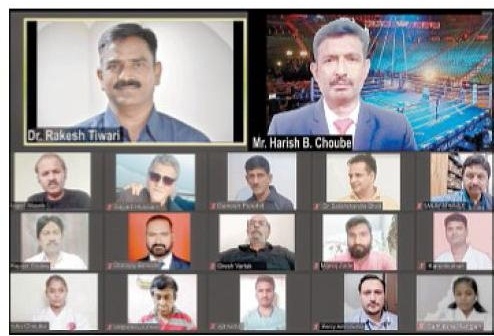 Principal Correspondent :
"The sport of boxing is not only a pugilism or exchange of blows but it's a novel art of self-defence. It is a played inside the ring with controlled aggression and with unique set of rules and regulations worldwide," said Dr Rakesh Tiwari, Secretary General, Maharashtra Boxing Association (MBA). Dr Tiwari was speaking during the 27th Online Karate and Sports Seminar for Physical and Spiritual Development of Students organised by Karate Budokan International (Vidarbha Region). Kyoshi Harish B Choube, Black Belt 7th Dan, National Chief Instructor and Examiner, Karate Budokan International and Sports Coordinator is the host of the webinar. Informing about the inception of boxing association in Maharashtra, Dr Tiwari said that the Maharashtra Boxing Association was formed in 1925 as 'Bombay Presidency Amateur Boxing Association' and is the oldest association of the federation. Dr Tiwari said that Maharashtra boasts of several medal winning boxers.
"Maharashtra has produced many champions who had brought laurels to the country at Asian, Commonwealth and other world events. "We are also very proud to have produced many Olympians, Asian Champions, Arjuna and Shiv Chhatrapati Awardees who've kept Maharashtra in the top rung of the national and international boxing. Mumbai has also successfully organised prestigious events like MRF World Cup, Asian Championships and many other international events thus keeping India's flag flying high at the international arena," Dr Tiwari proudly said. Speaking about the sport, Dr Tiwari said, "Boxing is a combat sport in which two people, usually wearing protective gloves and other protective equipment, throw punches at each other for a fixed time in the boxing ring. It is not only a pugilism or exchange of blows but it's a novel art of self-defence. It's a played inside the ring with controlled aggression and with unique set of rules and regulations worldwide."
He further said, "The sport is closely monitored by a referee in the ring for two to three minutes. A winner can be declared before the completion of the rounds when a referee deems an opponent incapable of continuing, disqualification of an opponent, or resignation of an opponent. When the fight reaches the end of its final round with both opponents still boxing, the judges' scorecards determine the winner. In Olympics, because a winner has to be declared, judges award the contest to one boxer on technical criteria of tie-breaker." Elaborating about the scoring system, Dr Tiwari explained the technical side of how a winner is declared. "Amateur boxing has a point scoring system that measures the number of clean blows landed rather than physical damage. Bouts consist of three rounds of three minutes in the Olympic and Commonwealth Games.
"A punch is considered a scoring punch only when boxers connect with the knuckle portion of the gloves. Each punch that lands cleanly on the head to torso with sufficient force of shoulder is awarded a point. A referee monitors the fight to ensure that competitors use only legal blows. A belt worn over the torso represents the lower limit of punches – any boxer repeatedly landing low blows below the belt is disqualified by a public warning procedure. Referees also ensure that boxers don't use holding tactics to prevent the opponent from swinging. "If this occurs, the referee separates the opponents and orders them to continue boxing. Repeated holding can result in a boxer being penalised or ultimately disqualified. Referees will stop the bout if a boxer is seriously injured, if one boxer is significantly dominating the other or if the score is severely imbalanced. Amateur bouts which end this way may be noted as "RSC – I" (Referee Stopped the Contest due to Injury)," Dr Tiwari gave a detailed explanation. The webinar concluded with interactive sessions. Sensei Disha Choube, Black Belt 2nd Dan, Karate Budokan International, proposed a vote of thanks.