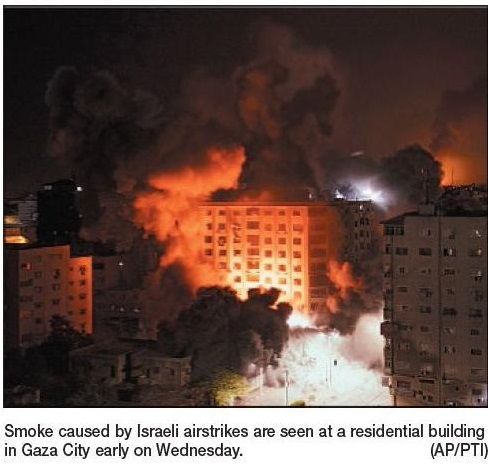 GAZA CITY :
ROCKETS streamed out of Gaza and Israel pounded the territory with airstrikes early on Wednesday as the most severe outbreak of violence since the 2014 war took on many hallmarks of that devastating 50-day conflict, with no endgame in sight. Gaza's Hamas rulers and other militant groups have fired barrages of hundreds of rockets that at times have overwhelmed Israel's missile defences, causing air raid sirens and explosions to echo across Tel Aviv, Israel's biggest metropolitan area, and other cities.
Israeli airstrikes have leveled two apartment towers in the Gaza Strip, where 2 million Palestinians have lived under a crippling Israeli-Egyptian blockade since Hamas took power in 2007 Warningshotshaveallowedcivilians to evacuate the buildings, but themateriallosseswillbeimmense. Israel faced heavy criticism over the tactic during the 2014 war . JustafterdaybreakonWednesday, Israelunleasheddozensofairstrikes in the course of a few minutes, targeting police and security installations, witnesses said.A wall of dark gray smokerose over Gaza City.
The Hamas-run Interior Ministry said, airstrikes destroyed the central police headquarters in GazaCity, a compound with several buildings . The death toll in Gaza rose to 43 Palestinians, including 13 children andthreewomen, according tothe Health Ministry. Nearly 300 people have been wounded. Five Israelis , includingthreewomenandachild, were killed by rocket fire Tuesday and early Wednesday, and dozens of people were wounded.