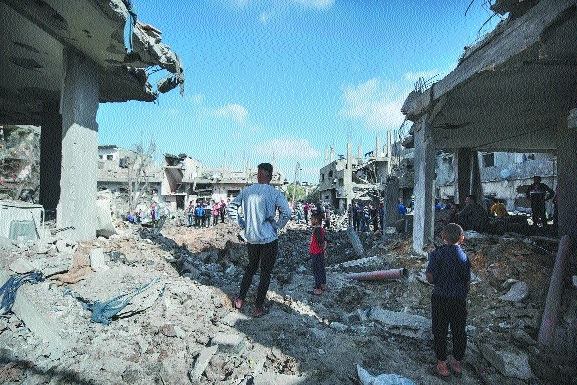 GAZA CITY, May 14 (AP)
PALESTINIANS grabbed their children and belongings and fled neighbourhoods on the outskirts of Gaza City on Friday as Israel unleashed a heavy barrage of artillery fire and airstrikes, killing a family of 6 in their home. Israel said it was clearing a network of militant tunnels ahead of a possible ground invasion.
Israel has massed troops along the border and called up 9,000 reservists as fighting intensifies with the Islamic militant group Hamas, which controls the Gaza Strip. Palestinian militants have fired some 1,800 rockets, and the Israeli military has launched more than 600 airstrikes, toppling at least three high-rise apartment buildings, and has shelled some areas with tanks stationed near the frontier.
As Israel and Hamas plunged closer to all-out war despite international efforts at a ceasefire, communal violence in Israel erupted for a fourth night.
The Gaza Health Ministry says the toll from the fighting has risen to 119 killed, including 31 children and 19 women, with 830 wounded. The Hamas and Islamic Jihad militant groups have confirmed 20 deaths in their ranks, though Israel says that number is much higher. Seven people have been killed in Israel, including a 6-year-old boy and a soldier. Palestinians living outside Gaza City, near the northern and eastern frontiers with Israel, fled the intense artillery bombardment Friday.
Families arrived at the UN-run schools in the city in pick-up trucks, on donkeys and by foot, hauling pillows and pans, blankets and bread.
7 Palestinians killed in clashes with Israeli Army
GAZA CITY, May 14 (AP)
SEVEN Palestinians were killed by Israeli Army fire in the West Bank on Friday. The Israeli Army says one was killed after attempting to stab a soldier. Palestinian health officials confirmed that death and said six other Palestinians were killed by Israeli Army fire in the occupied West Bank.
The Health Ministry said five were killed in stone-throwing clashes with Israeli forces in several locations, and a sixth was killed during an attempt to stab an Israeli soldier on Friday. A seventh was killed in Nablus.