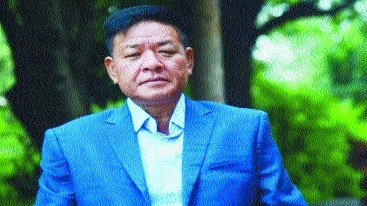 DHARAMSALA, May 14 (IANS)
FORMER speaker of Tibetan Parliament-in-exile and experienced administrator Penpa Tsering will be the next President of Tibetan Government-in-exile, it was announced on Friday. Tsering, 53, who won the post of Central Tibetan Administration's Sikyong (President) with 5,417 votes, succeeded Lobsang Sangay, who completes two terms as president this month. CTA chief election commissioner Wangdu Tsering declared the result here for the second and final round, polling for which was held on April 11.
Tsering, who lost to the current incumbent Lobsang Sangay in the 2016 elections, polled 34,324 votes against his nearest rival, Kelsang Dorjee Aukatsang, who polled 28,907 votes. Aukatsang has been a special adviser to Sangay and the Dalai Lama's representative to North America. Around 1.3 lakh Tibetans living in 26 countries cast votes in April.
In the first phase of elections, there were eight candidates for the post of Sikyong. Tsering secured the maximum votes (24,488) followed by Aukatsang (14,544). The result of 45 members of the Parliament-in-exile was also declared. The 2021 general election for the Sikyong and members of the parliament was the third direct election for electing the Tibetan leadership since complete devolution of political authority by the Dalai Lama in 2011.
Both prime ministerial candidates -- Tsering and Aukatsang -- had campaigned aggressively across the Tibetan settlements. Even the social media among the Tibetan diaspora was aggressively followed to highlight their issues and agenda.