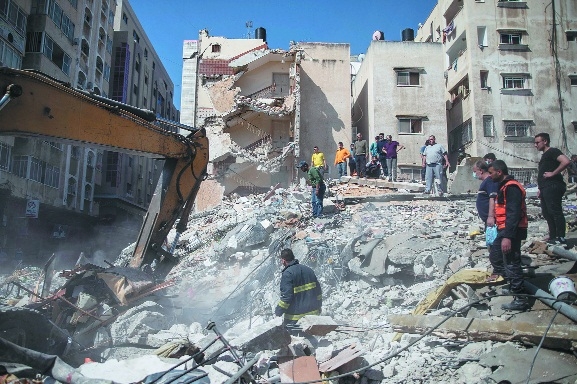 Palestinian rescuers search for survivors under the rubble of destroyed residential buildings
following deadly Israeli air strikes in Gaza City on Sunday. (AP/PTI)
GAZA CITY :
ISRAELI air strikes on Gaza City flattened three buildings and killed at least 42 people on Sunday, medics said, making it the deadliest single attack since heavy fighting broke out between Israel and the territory's militant Hamas rulers nearly a week ago. The Gaza Health Ministry said 10 women and eight children were among those killed, with another 50 people wounded in the attack. A rescuer could be seen shouting into a hole in the rubble.
"Can you hear me?" he called out. "Are you OK?" Minutes later, first responders managed to pull a survivor out and carried him off on an orange stretcher. Earlier, the Israeli military said it destroyed the home of Gaza's top Hamas leader, Yahiyeh Sinwar, in a separate strike in the southern town of Khan Younis. It was the third such attack in the last two days on the homes of senior Hamas leaders, who have gone underground. Israel appears to have stepped up strikes in recent days to inflict as much damage as possible on Hamas as international mediators try to broker a ceasefire. But targeting the group's leaders could hinder those efforts.
A US diplomat is in the region to try to de-escalate tensions, and the UN Security Council is set to meet later. On Saturday, Israel bombed the 12-story al-Jalaa Building, where the office of The Associated Press was located. The building also housed the TV network Al-Jazeera and other media outlets, along with several floors of apartments. "The campaign will continue as long as it is required," Israeli Prime Minister Benjamin Netanyahu said. He alleged that Hamas military intelligence was operating inside the building.