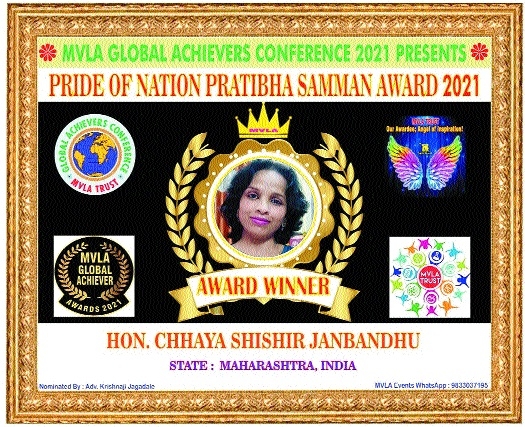 Receives MVLA Trust's Global Achievers Award
LIFE has not been easy for Chhaya Shishir Janbandhu, but the sportsperson in her helped her take those tough times in her strides. And she came out victorious. With her motto 'Be Strong, Be Fearless, Be Brave And Be Alert', Janbandhu has been teaching self defence tactics to girls (mainly) and her effort of reaching out to girls of more than 200 schools and colleges of the region has helped add another feather to her cap. An employee of South East Central Railway, Nagpur was honoured by MVLA Global Achievers Conference with an award instituted by MVLA Trust for her contributions to the society recently.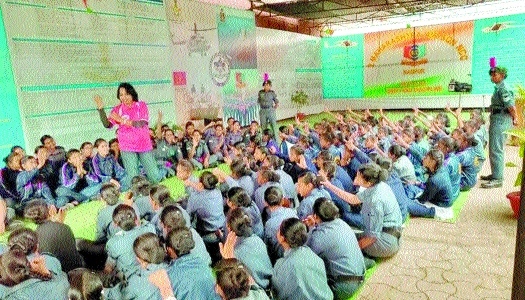 "I was felicitated with prestigious award of 'Pride of Nation Pratibha Samman Award 2021' for my work for society — Self-defence for teenagers and Women's Empowerment' on Friday. I have taught over two lakh teenagers self-defence tactics covering over 200 schools and colleges from Maharashtra as well as other states," said Janbandhu, also an international athlete and 'Bravery Awardee' of Railways Board, New Delhi, while interacting with 'The Hitavada'. "Actually, presentation of the Global Achievers Award 2021 was scheduled to be held at Bangkok (Thailand). People from 25 States were going to be honoured in the month of June but due to pandemic, the organisers announced and felicitated the winners online. I am the only achiever from Nagpur (and Maharashtra)," she added. On her life and what inspired her to take to training girls in self defence, Janbandhu opened up, "I have done my entire education from Nagpur University — BSc (Maths), BP Ed and Master Degree in Physical Education after marriage. I was working with Pallotti Engineering College as HOD.
Tragedy struck as my husband, working in Central Railway suddenly he left us due to a severe heart-attack in August 2013. I joined railways on compassionate ground in 2014. "An event in December 7, 2016 changed my life. I was attacked by three goons while on duty at Kamptee station. I am former international athlete and all India Railways cross country runner. I knew martial arts and how to defend myself in such tough situations. Not only I could save my life, I also saved Railway's 10 lakh rupees. "Having seen my brave work on duty, Railway Board awarded and felicitated me with 'Bravery Award' on the eve of Women's Day (March 8, 2017) at New Delhi. I took this award as an inspiration and decided to guide women teenagers of society in self-defence techniques through which they could save their lives in this unpredictable world." It all started with a humble beginning.
"In 2018, I started my mission 'Self-defence for teenagers and Women's Empowerment'. The first session (with Bhola School girls) was conducted at Mangal Mandap (a railway hall near Kadbi Square) on the eve of Republic Day in which DRM Shobhana Bandopahyaya was also present. Since then I am keeping my mission active. During this ongoing pandemic, my online workshops are on. "I took appointments from principals of schools and colleges and started giving self-defence demonstration and practical classes to them free of cost.
Till now, I have imparted training at more than 200 schools and colleges from Nagpur, rural, tribal schools, Mumbai, Pune, Wardha and other places. If I include kids, boys and senior citizens, the total number of beneficiaries who learned self defence go near about five lakh," claimed a proud Janbandhu. Janbandhu wants not only girls but every Indian citizen strong. "My wish is to make each and every girl of my country strong, brave, courageous and fearless. Not only girls, every citizen of my country should know about self-defence. It is their right to save and protect themselves without taking the help of anyone. My motto is 'Be Strong, Be Fearless, Be Brave And Be Alert'," she signed off.