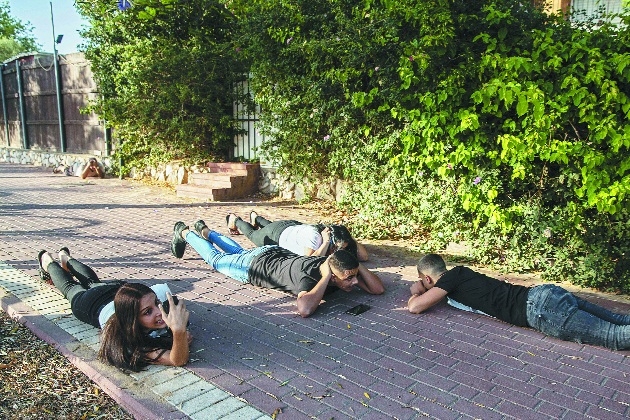 Israelis take cover as a siren sounds a warning of incoming rockets fired from the Gaza Strip, in Ashkelon, southern Israel on Sunday. (AP/PTI)
By Fares Akram and Joseph Krauss GAZA CITY :
THE Israeli military unleashed a wave of heavy airstrikes on the Gaza Strip early on Monday, saying it destroyed 15 kilometres (nine miles) of militant tunnels and the homes of nine Hamas commanders. Residents of Gaza awakened by the overnight barrage described it as the heaviest since the war began a week ago, and even more powerful than a wave of airstrikes in Gaza City the day before that left 42 dead and flattened three buildings.
That earlier attack was the deadliest in the current round of hostilities between Israel and Gaza's Hamas rulers. There was no immediate word on the casualties from the latest strikes. Gaza's mayor, Yahya Sarraj, told Al-Jazeera TV that the strikes had caused extensive damage to roads and other infrastructure.
3,150 rockets fired from Gaza: Israel Army: A WEEK after the shelling began, Palestinian militants have fired some 3,150 rockets from the Gaza Strip toward Israel, the Israeli Army said on Monday. About 460 of the rockets never made it across the border and went down in Gaza territory, 'dpa news agency' quoted the military as saying.