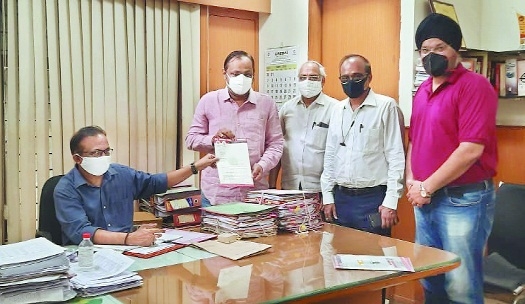 Expressing dissatisfaction over the new set of restrictions, traders on Tuesday urged the concerned authorities to lift the ban and allow them to carry out business activities. A delegation of the Nag Vidarbha Chamber of Commerce (NVCC), the apex body of 13 lakh traders in Vidarbha, met Nagpur District Collector Ravindra Thakare; Municipal Commissioner Radhakrishnan B; Additional Municipal Commissioner Ram Joshi and gave a charter of demands highlighting the plight of the traders. On the occasion, NVCC President Ashwin Mehadia said that the traders are bearing the brunt of restrictions for quite a long time which is affecting them financially.
"The restrictions have disrupted most of the commercial activities in the city due to which all the traders are in deep trouble. They are facing challenges on various fronts. Small and medium size traders are the ones who are worst affected and struggling for survival," he said. Mehadia said that the Government is not supporting the traders. "The Government has not announced any financial package for the traders. On the other hand, the authorities are expecting that the traders should pay all the taxes on time. Adding to the woes, the penalty on various taxes has been increased," he highlighted. Vice-President of NVCC Sanjay Agrawal said that the traders are the backbone of the economy.
"They are the important link between the manufacturers and the consumers. In addition to this, the traders also collect taxes from the consumers and give it to the Government. But if the trade remains close for so long, how can traders collect the tax and pay it to the Government," he said. Secretary of NVCC Ramavtar Totla said, "How can we survive in such a situation?. It will leave a big impact on all of us - financially as well as mentally.
The Government should roll back the decision and allow business activities in the larger interest of the society," Totla further added that trade should be allowed in the city as the number of COVID-19 affected persons has started falling. "We all have been following the directions to control the coronavirus and thus there should be no harm in giving some relaxation to the traders," he said. Treasurer of NVCC Sachin Punyani and Executive Body Member Rajwantpal Singh Tuli were also present on the occasion.