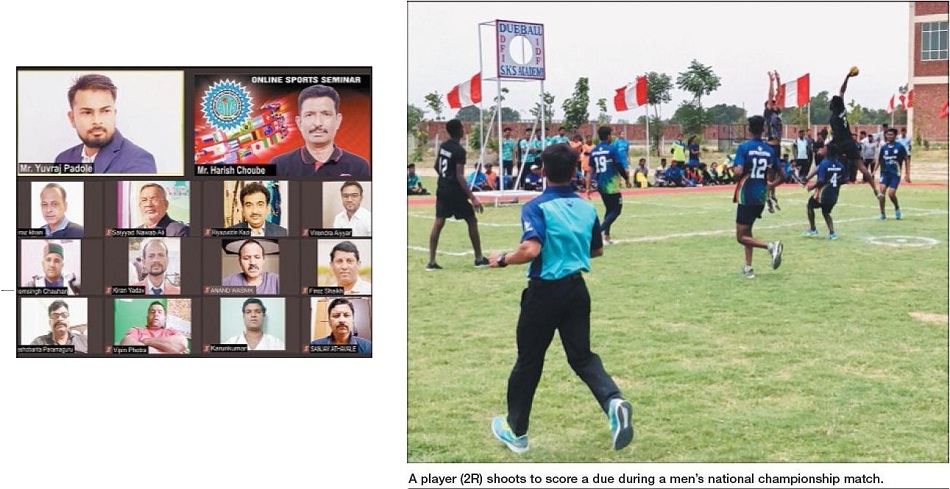 Principal Correspondent :
"DUEBALL Federation of India is planning to host Asian Dueball Championship in Mumbai once the coronavirus pandemic gets over and government permits the conduct of sporting events, said Yuvraj Padole, Co-ordinator, Due Ball Federation of India. Padole was speaking during the online webinar organised by Karate Budokan International (Vidarbha Region). The event is hosted by Kyoshi Harish B Choube, Black Belt 7th Dan, National Chief Instructor. Choube is also the Examiner of Karate Budokan International as well as National Sports Co-ordinator. Padole informed that dueball has been recognised by School Games Federation of India. The federation is also trying to get the sport recognised under AIU and Ministry of Sports and Youth Affairs.
DFI will be organising Asian Dueball Championship at Mumbai, India once pandemic condition gets better. Also, we are planning to hold 1st Dueball World Cup in 2022 in India," informed Padole. Speaking about the sport which has been invented in Nagpur by former national level hockey player Firoz Khan, Padole said dueball is 'Made in India' sport. "The game was invented by Firoz Khan of Nagpur in the year 2013. Dueball is combination of basketball, handball and football which is been designed with new technique, cover and architecture to show how dueball can be played easily and anywhere. The first federation cup was organised in 2013 in Nagpur. September 20 is celebrated as World Dueball Day. Many competitions at various age level have been organised by the Dueball Federation of India in collaboration with affiliated state associations," said Padole.
Dueball has reached 25 States and five Union Territories in India and with the efforts of International Dueball Federation and Asian Dueball Federation it is being played in 25 countries. "Dueball can be played anywhere i.e indoors, outdoors, on turf, grass etc. It also has a another version - Beach Dueball which is also gaining immense popularity India," claimed Padole On the rules and regulations of the game Padole said, "Dueball is played on 24x40 meters ground for senior and junior categories and on 20 x 38 meters for sub-junior category. Dueball has Due Board which is on either side of the ground, which stands with the height of 4 meters from ground level including 1.2 meters of wooden board consisting of hole which is 60cm in diameter.
A team consists of 12 players where 7 players (6 player + 1 goalkeeper) plays inside the ground. A match consists of two periods of 20 minutes each with an interval of five minutes. A team has to score Due (Goal) within the Due Board and team with highest score wins," Padole explained in detail. "The game increases agility, endurance, speed, stamina, focus, skills, concentration and most important team work," Padole asserted. Karunkumar Tirpude proposed a vote of thanks.