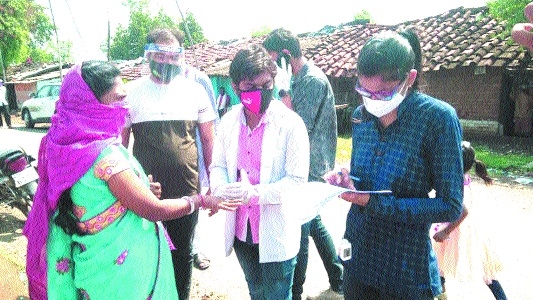 ABVP members conducting the health survey of a woman.
Staff Reporter :
Under 'Break the Chain' Abhiyan, the members of Akhil Bhartiya Vidyarthi Parishad (ABVP), Jabalpur, conducted a health survey approaching every door-step in different residential localities of the city. Till date, the ABVP members reached upto 1940 families in 14 localities. They initiated 'Break the Chain' Abhiyan to stop the spread of COVID pandemic and conducted thermal screening and checked oxygen level of people.
They also distributed medicines among beneficiaries. City Secretary and Regional Joint Secretary, Sarvam Singh Rathore informed that the ABVP members conducted health check-up of 1940 families residing in 14 localities during last six days of the Abhiyan. They distributed medicines among the beneficiaries with mild symptoms and advised them not to step out of their homes, frequently wash their hands with soaps, maintain physical distance with everyone, use mask and have nutritious food.
During Abhiyan the members also came to know about various rumours people have against vaccination. Hence they explained about the significance of vaccination to ensure protection from COVID-19 infection. They also provided medical consultancy to the infected patients. The members who participated in Abhiyan on Thursday included Regional Organising Secretary, Vipin Gupta, Makhan Sharma, Pavitra Jain, Kajal Kesharwani, Avinash Vishwakarma, Priyanshi Singh and others.