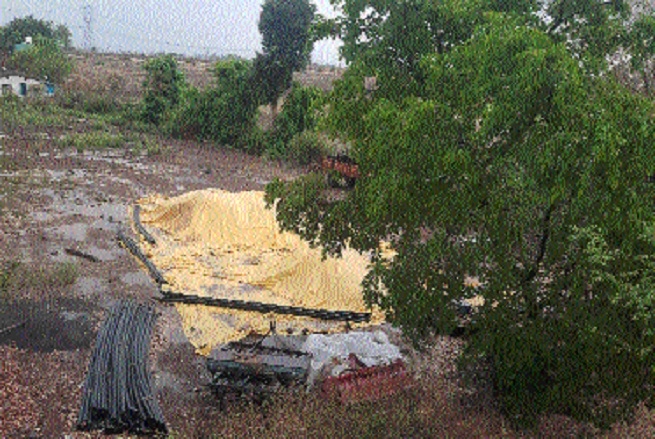 The sacks of harvested crops covered with plastic sheets kept in fields after sudden rains lashed the area.
Our Correspondent :
Bua Bichhia,
The impact of the Tauktae cyclonic storm was also witnessed in Bua Bichhia area as rainfall, strong winds and lightning was witnessed for the third consecutive day. Since morning, clouds were hovering in the area and then strong winds started blowing and heavy rainfall continued in the town for more than one hour, changing the weather completely. However, this unseasonal rainfall caused extensive damage to vegetable crop. Grains lying in fields for drying up were sodden due to the sudden rains.
Hay and fodder collected after harvesting was lying in most of the fields for drying and even this stock was all wet due to heavy rainfall. Water also accumulated in many fields. Power supply in most of the villages was disrupted. Due to strong winds, fault on 33 kv line between Anjania to Bichhia developed and power supply in Bichhia and Mawai blocks was also disrupted for hours. In many village panchayats, power supply has still not been restored. Due to the heavy rainfall, the monsoon nullah situated near Dei village panchayat was flooded for more than two hours and traffic was disrupted on Bichhia-Danitola road.