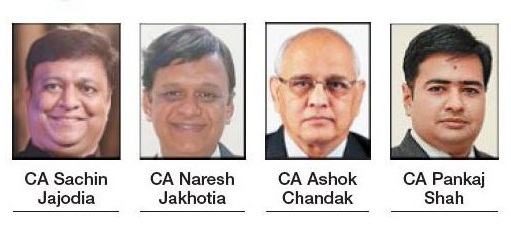 Business Bureau :
Chairman of VIA Taxation and Corporate Law Forum, CA Ashok Chandak, Past President of Institute of Chartered Accountants of India, recently said that that in many cases the successors have to suffer lot of agony, mental torture, and harassment to get the wealth created by the deceased person. He was speaking at the session on "Estate and Succession Planning" organised recently on Zoom platform by the Taxation & Corporate Law Forum of Vidarbha Industries Association (VIA). The session was conducted for the benefit of the industrialists of the region. The objective of the session was to create awareness and importance of the succession planning amongst the members. Chandak said that lack of planning often results in litigation, disputes and differences as a result of disagreements among living family members and delay in distribution of assets.
Chandak also said that out of many ways of succession planning, the best way is a will and in one case do tax planning in succession through family trust. When a succession planning is done one should plan the affairs in such a way that successors may get the wealth in a very easy manner without any hustle, litigation and without disturbing the business in a time bound manner. Eminent speaker, CA Pankaj Shah, an expert on the subject, started the session with an example of Mahabharta and explained the various modes of succession planning, who can make a will, who can be successors, situations where an individual dies who will be considered as a successor under different situations, laws which governs successions.
With practical examples, he also discussed pros and cons of each tool of succession planning. Shah discussed the prevailing global practice as far as succession planning is concerned. He made a presentation with the recent example of Bill Gates and earlier succession planning issues of Mafatlal Group, Modi Group, etc. The nomination and will are totally different tools, he elaborated. He also discussed the importance of registration of will as a tool of powerful succession planning. Pankaj Shah said that succession planning will differ from person to person and from business to business. He laid down important points to be covered in a will, which may be a registered will or an unregistered will. He further elaborated that in case of a will of an individual an executor or will is must and major beneficiary of the will cannot act as witness to will. Extending his presentation Shah deliberated on succession planning in case of a business entities like a corporate house or a partnership firm. He added that under the current pandemic situation a succession planning of business is indeed a necessity. He suggested that an Advisory Board can be formed in a corporate house for succession planning. In case of partnership or LLP succession clause can be inserted by making an amendment to the partnership deed, he said.
CA Shah cautioned that various laws such as Hindu Succession Law, Shariat Law, Transfer of Property Act, Income Tax Law, etc. should be considered and hence a legal professional advice should be taken for succession planning. He added further that partition can be full partition or partial partition. Earlier in his introductory remark, CA Naresh Jakhotia, Treasurer VIA, set the pace for the programme by quoting that ignorance on part of succession planning in almost all cases leads to financial as well as emotional disturbances. Hence succession planning must be part of every single person's tax planning. Of course, death and tax are certain in life but one needs to plan gracefully for the former, he remarked. CA Sachin Jajodia, Convener of the VIA Tax Forum, conducted the question and answer session. Prominently present on the occasion were Aditya Saraf, CA Rajesh Loya, Mahendra Jain, Mahendra Kamath, Anil Parekh, Ashit Sinha, Omprakash Bagdia, R C Plasto, Amit Rajkotiya, Hemant Rajandekar, CA Damodar Sarda, Amit Agrawal, and others.