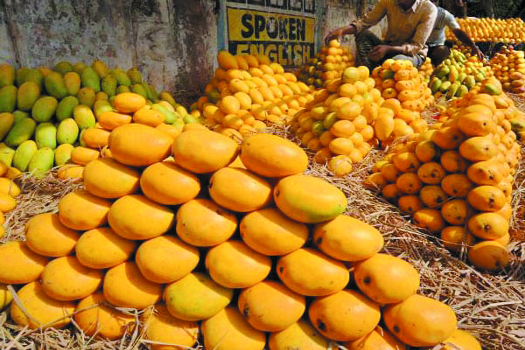 It's great news for mango lovers these days as the price of one of the popular varieties-- Begumpalli-- has fallen from its recent highs. The Begumpalli price has fallen by more than 50 per cent as compared to last month's price in the Kalamna wholesale marketyard. This was disclosed by Anand Dongre, President of Nagpur Fruit Dealers Association while speaking to The Hitavada.
He further said that the Begumpalli variety is coming in bulk quantities from Southern parts of the country due to which the prices have cooled down. The Begumpalli is arriving from Kurnool, Warangal and other districts of Andhra Pradesh. On an average 200 to 250 trucks are coming to the wholesale market everyday. This is much higher than last month's arrivals at an average of 30 to 40 trucks to the market. In the wholesale market, the Begumpalli is being quoted in the range of Rs 15 per kg to Rs 25 per kg, as compared to last month's prices of Rs 40 per kg to Rs 50 per kg. In the retail market, it is available at Rs 40 per kg to Rs 50 per kg, he said.
The production of Begumpalli is better this year than the previous year due to favourable climatic conditions. Last year the production was about 25 per cent to 30 per cent due to unfavourable climate. In the previous year, the Begumpalli was being quoted at Rs 100 per kg to Rs 180 per kg, he said.
Similarly, the prices of local varieties like the Dassahari and Langada have also dropped from the past 15 days. In the wholesale market, Dassahari and Langada mango varieties are being quoted at Rs 15 per kg to Rs 30 per kg, depending on the quality. The local varieties come from Bhiwapur, Umrer, Kuhi, Mandhal and other near by areas. On an daily average 20 to 25 tempos are arriving at the market.
Similarly, the famous Alphanso popularly known as the Hapus mango variety is coming from Ratnagiri and Mumbai. It is being quoted at Rs 800 to Rs 1,000 per dozen, he said.
The rains damage and spoil the mangoes. Also, there is limited demand for fruits due to the lockdown and restrictions on movement of people from 7 am to 11 am in the city. "The recent rains and second wave lockdown also had an adverse impact on the mango prices," he added.