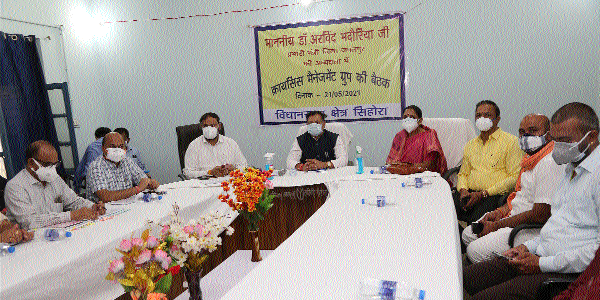 Co-operative and Public Service Welfare Minister and COVID Incharge of Jabalpur district, Arvind Singh Bhadoria chaired a meeting of the crisis management group of Panagar, Sihora, Patan and Shahpura constituencies at the tehsil office on Friday. After seeking details about various measures being adopted in these constituencies, Minister Dr Bhadoria appreciated the efforts of crisis management teams as they resulted into declining COVID graph.
Emphasising over micro-level strategy to bring the infection rate to zero till May 31, Dr Bhadoria said that ongoing lockdown will affect economic activities. Lockdown should be lifted slowly as per scientific method. Door-to-door survey should be conducted to identify the infected and suspected patients. They should be administered with essential medicines before isolation to break the chain of COVID-19.
The infected patients should be advised not to come in contact of others. Simultaneously, rumours regarding vaccination spread in rural areas should be clarified through public awareness activities.
The Incharge Minister also instructed to intensify the pace of 'Kill Corona Abhiyan' and make preliminary preparations for the possible third wave as predicted by the experts. He further informed that the State Government has decided to bear the academic expenses with monthly aid of Rs. 5,000 to the children who lost both their parents to COVID-19.
The government will also give financial relief of Rs. 1 lakh to the government employees who died while serving their duties during COVID pandemic.
He asked the concerned officers to identify the deceased to allot financial relief. Bhadoria further instructed to ensure free distribution of three month's ration among the poor beneficiaries during COVID pandemic and make efforts to stop black marketing of ration. In view of circumstances, Janta Corona Curfew can be extended upto May 31. Hindrances occur in registration of vaccination should be solved immediately. The MLAs from different constituencies focused over microplan to break the COVID chain. Collector, Karmveer Sharma mentioned that protection of public life is the top priority and no carelessness will be tolerated in this regard.
MLA, Nandini Maravi, Susheel Tiwari, Ajay Vishnoi and Sanjay Yadav with Collector, Karmveer Sharma and other administrative officers attended the meeting.