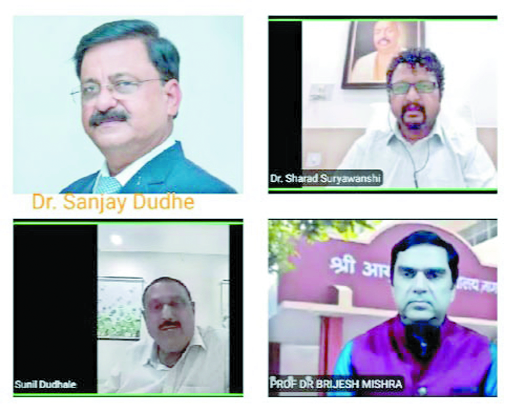 ACADEMY of Physical Education, Priyadarshini Mahila Mahavidyalaya, Wardha; MB Patel College, Sakoli; NMD College, Gondia; Late Nirdhan Patil Waghaye Mahavidyalaya, Lakhani jointly organised a national-level webinar on 'Impact of COVID-19 on Mental and Physical Health, Precautions and Remedies'.
The webinar was inaugurated by Dr Sanjay Dudhe, Pro-VC, Rashtrasant Tukadoji Maharaj Nagpur University (RTMNU). Dr Sharad Suryawanshi, Director, department of Physical Education and Sports, RTMNU was the chief guest.
He delivered a detailed speech on the topic and purpose of holding such a webinar at national level.
All the speakers were of the view that to beat the deadly coronavirus, use of face masks and vaccination for all is a must. They all suggested that a drive has to be launched on war-footing by the government to vaccinate each and every citizen of the country.
In his inaugural address, Dr Dudhe said, "The second wave of the virus is more dangerous than the first. Those who have lost their near and dear ones only they can feel the untimely demise."
Dr Dudhe further added, "it is a war-like situation in the country and we all should take care of our family and friends.
"All should take utmost precautions to remain safe from this dreaded decease."
On the opening day of the national webinar, Dr Brijesh Mishra from Shri Ayurveda College spoke on the topic: vaccination awareness. He said that vaccination is safe and everybody should get the jab.
"To get vaccinated means to help the society in defeating coronavirus. He also said that vaccination does not has any side effects.
"The tiredness, fever and body ache are nothing to worry about. Those who suffer with these symptoms should immediately consult their doctors. Vaccination develops antibodies in our body which helps in fighting with coronavirus," he explained.
Dr Sunil Dudhade, Director, Sports and Physical Education Department, Devi Ahilya University, Indore also insisted everybody to take the jab.
Dr Ramba Sonaye (Priyadarshini Mahavidyalaya, Wardha); Dr H R Trivedi (Principal, MB Patel College, Sakoli); Prof Sharda Mahajan (NMD College, Gondia); Dr DS Kadav (Principal, Late NPW College, Lakhani); Dr Anil Karvande (former Principal, Ishwar Deshmukh College of Physical Education and President of Academy of Physical Education), students, sportspersons and others attended the webinar.
Dr Amit Tembhurne conducted the programme while Dr Sonali Shirbhate made introductory remark. Dr Pravin Kumar introduced the guests while Dr Sudhir Sahare proposed a vote of thanks.