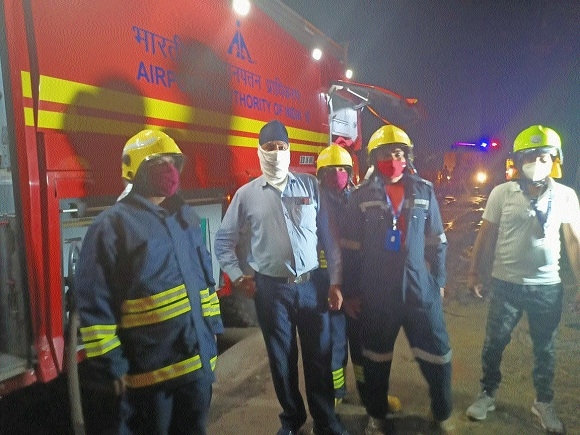 The team of AAI firemen at the sight of fire mishap.
Staff Reporter :
RAIPUR,
The team of Firemen from Airport Authority of India (AAI) of Raipur Airport played the most crucial role in extinguishing the inferno at a chemical factory at Birgaon. According to the report, around 5:30 pm on May 21, Swami Vivekananda Airport authority got report of the massive fire in Columbia Petrol Chemical establishment. Since the State Fire Brigade doesn't have foam tenders, they requested the SVA authority for foam tender. Since the flight movement at SVA is reduced from 26 to just06 and one fire truck wasn't in use. Considering the emergency, SVA Director directed Airport Fire Tender truck to set off to the sight of incident.
The crew of firemen reached the spot under the direction of shift In- charge and supported the firefighting efforts of the state fire brigade. After a five and a half hour of fire fighting, the firemen succeeded in extinguishing the massive fire. The team of firemen was comprised of Senior Superintendent T B Digal, Superintendent B K Sahu, Superintendent Iqbal Singh, Supervisor M K Parmar, Assistant Shravan, Assistant B Praveen, Assistant Abhishek Raj, senior assistant Vikrant Kaushik and senior assistant Dinesh Singh.