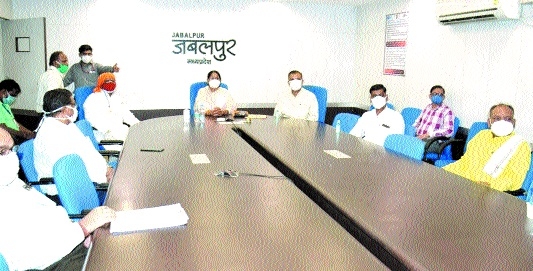 Public representatives and officials listening to CM's online address.
Staff Reporter :
Public representatives and senior officials, on Saturday listened to address of Chief Minister Shivraj Singh Chouhan regarding covid-19 management at NIC room at Collectorate. Jabalpur Municipal Corporation had made arrangements for involvement of more and more citizens in the programme. It had sent webcast links to all public representatives, officials and employees in the city and appealed them join the webcast. In his address the Chief Minister called upon everyone to come forward by showing social unity to end covid-19 by May 31. He said public representatives should give their best contribution and end coronavirus spread so that the State can get partial relief from lockdown from June 1. Chouhan said everyone must follow corona protocol and take vaccine.
"Lets everyone work with strength to break the corona chain," said the CM while adding that the State Government has started preparations to deal with possible third wave of covid-19. He has also appealed to public representatives to be active and alert. While giving information about efforts being made by the State Government to end pandemic said all patients infected with covid-19 have been provided proper treatment in Government hospitals and free treatment to Ayushman card holders in private hospitals. Municipal Commissioner Sandeep G R along with public representative and officials listened to CM's address.