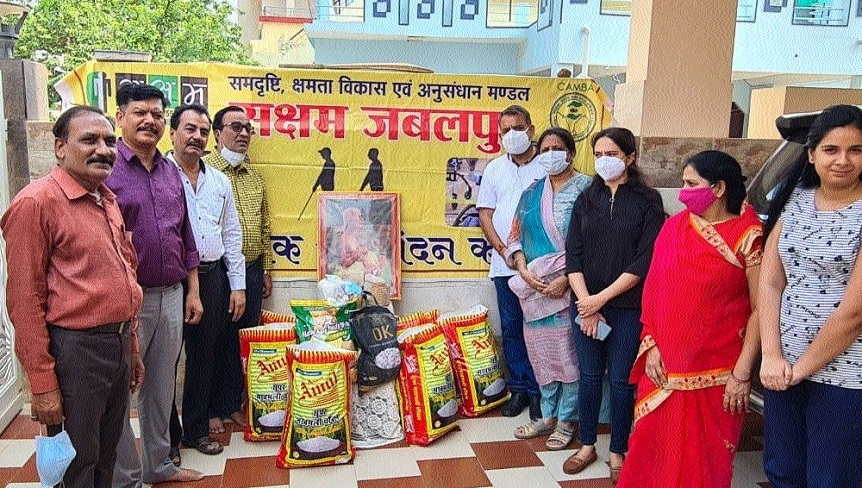 Guests with senior office-bearers of Saksham during the inauguration of SCAN Service.
Staff Reporter ;
Saksham Covid Action Network 'SCAN' Scheme was inaugurated to redress the problems of disabled persons during COVID-19 pandemic. The scheme was inaugurated on Sant Surdas Jayanti by Saksham Mahakoshal region. Chief guest on the occasion was Rashtriya Swayamsevak Sangh (RSS), Rashtriya Seva Sah Pramukh, Rajkumar Matale from Meerut Abhasi Group. He inaugurated the ambitious scheme and applauded the initiative of Saksham for providing necessary assistance to disable persons and their families. Principal Secretary of the Social Justice and Disability Welfare Department, Prateek Hajela presided over the programme and informed about several government run schemes for welfare and providing platform to disabled persons.
He assured the members of Saksham for providing necessary support. Special guest on the occasion was National Organisation Secretary, Dr Sukumar while Saksham, National Vice-President, Dr Pawan Sthapak who encouraged the members to take inspiration from Sant Surdas for true service of disable persons. SCAN Co-ordinator, Gayatri Jena (Delhi) informed that any disable or their family may contact on 0120-6904999 throughout the country for assistance of COVID vaccination, food arrangements, ration, medicines, medical consultation etc.
Saksham Mahakaushal Region, Secretary, Piyush Jain convened the programme while Sandeep Rajak, Pawan Jain, Arvind Gupta, Mayank Jain, Sunil Jain, Jyoti Paranjpe and representatives from 10 districts attended the programme.