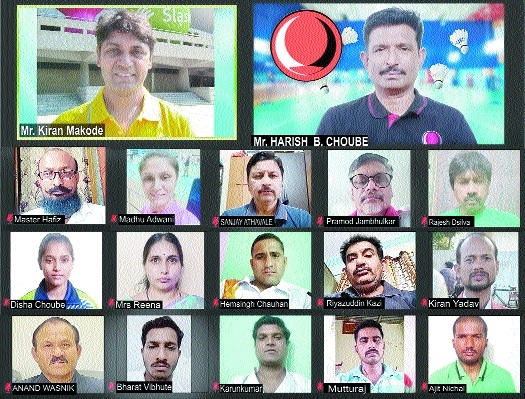 Principal Correspondent ;
"A coach in any field has to be thoroughly knowledgeable and dedicated and should be aware of all the rules of the game. A badminton coach, imparting coaching to budding and young shuttlers, should guide players with correct technique of movement skill and racket skill at the basic level. He should be updated with recent technological as well as scientific development in the field of sports in general and badminton in specific," said Kiran V Makode, who played for India in five World Senior Badminton Championships held at Spain (2009), Turkey (2013), Sweden (2015), India (2017) and Poland (2019). Makode was speaking during the online "Karate and Sports Seminar for Physical and Spiritual Development of Sportspersons.
The webinar is organised by Karate Budokan International (Vidarbha Region). Kyoshi Harish B Choube, Black Belt 7th Dan, National Chief Instructor and Examiner, Karate Budokan International and National Sports Co-ordinator, is the host of the webinar. Makode, who was the coach of Junior Indian team at Dutch and German Open further said, "at elite level, badminton is a very dynamic sports with shuttles being struck over 350-400 km/h. At highest level players require extraordinary fitness, technical ability requiring high level of motor co-ordination, sophisticated racket movement and precision when under pressure." Explaining the basic rules of the shuttle sport, Makode said rules of badminton involves two opponents hitting the shuttlecock over the net into the other opponent's side. The rally ends when the shuttlecock touches the ground. Only one stroke is allowed to pass it over the net. One match is made up of three games, of 21 points each. Professional badminton games are played in five categories: men's singles, men's doubles, mixed doubles, women singles and women doubles.
Recalling the glorious days of Indian badminton Makode said "Prakash Padukone's victory in All England Championship in 1980 popularised the game in India. Later, Pullela Gopichand's win in All England Championships in 2001 and the recent success of Saina Nehwal, PV Sindhu and Kadambi Srikant made India a dominant force in the world of badminton and second most popular game in India after cricket." Makode was of the view that badminton sport is appealing to all as it can be played by people of all age groups and at all levels. "At beginner and club level one can play and enjoy without great deal of technical expertise. As it is an indoor game it can be played throughout the year. Most importantly it is accessible for differently-abled too. There are rules to govern the para-badminton according to the individuals class of disability," informed Makode. Disha Choube, Black Belt 2nd Dan, proposed a vote of thanks.