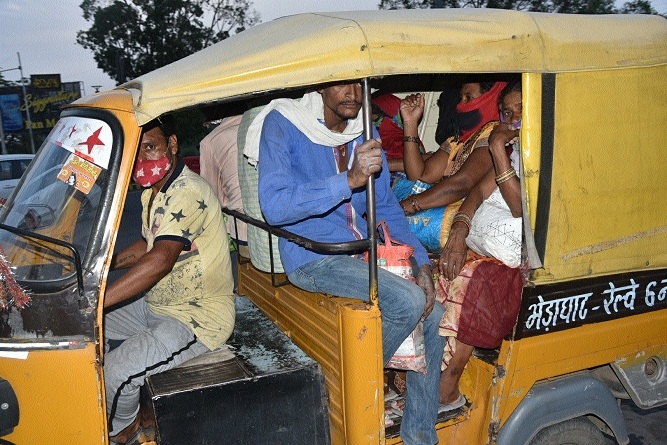 An overloaded auto-rickshaw flouting implementation of lockown. (Pic by Anil Tiwari)
Staff Reporter :
With complete ban on public transportation, unregulated plying of auto-rickshaws during COVID-19 pandemic is continuing in the city. All public transportation means have been strictly restricted and only vehicles engaged in essential services are being allowed during the lockdown. Private vehicles are also banned and restricted number of persons are allowed to travel only for emergency purpose. Police are strictly dealing with persons travelling in the city without any authentic reason to check the spread of the disease.
People are facing challans and imprisoned in temporary jails to ensure strict implementation of lockdown norms. On the other hand, auto-rickshaws are openly floating the lockdown norms without any checking at main streets of the city. Auto-rickshaws managed to find passengers without any restriction and daringly plying from one to another part of the city.
These smart auto-rickshaw drivers are easily dodging the police checking at main squares and emerged as COVID-19 carriers. Unregulated plying of auto-rickshaws proved a blot in the name of strict implementation of lockdown and emerged as challenge for police and administration to check the spread of the disease in the district.