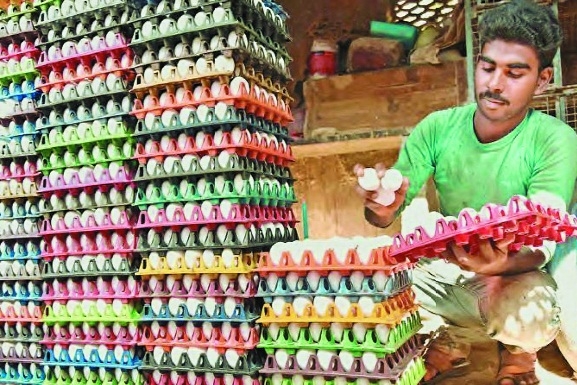 Business Bureau :
Most traders feel that the egg prices may go up to hit record high level of Rs 8 per piece by June end
The coronavirus pandemic has not only affected the consumer buying patterns but also made things unpredictable in the markets. The egg prices are going through the roof at a time when it should be actually going down. Usually, both the demand and supply of eggs fall during the summer season. Going against this general trend, the demand for eggs has increased manifold and so are its prices. "Heavy consumer demand is driving up egg prices. The eggs are being quoted for Rs 6 per piece as compared to 15 days ago at Rs 4.80 per piece in the Mahatme Phule Wholesale Market," said Moiz Burhani of Vidarbha Eggs while speaking to The Hitavada.
In retail the eggs are being sold between Rs 6.50 and Rs Rs 7 per piece, depending on the locality. The production of eggs stands at an average 25 crore eggs per day against 100 crore people consuming the eggs in the country. The production of eggs is constant more or less throughout the year, said sources in the market. Most traders feel that the egg prices may go up to hit record high levels by June end. They are expecting the egg prices shoot up to Rs 8 per piece in the wholesale market. There has been sharp drop in supply from major egg producing states like Andhra Pradesh and Telangana. "Currently, the demand for eggs is more than the supply.
Because of the huge demand our stock of eggs get empty by evening," Burhani said. The average daily consumption of eggs is 12 lakh to 13 lakh in the Nagpur district. The wholesale egg market caters not only Nagpur district but also Chhindwara, Saoner and other towns, he informed. He said that the awareness levels about the benefits of eating eggs has grown multifold among the people. The egg prices are rising as more people are buying eggs to boost their immunity power in the backdrop of COVID-19 virus. Doctors and experts are also prescribing eggs in the daily diet schedules of COVID-19 positive patients and people who are under quarantine to improve their immunity system. In Government medical hospitals boiled eggs are being given to COVID-19 positive patients on daily basis.