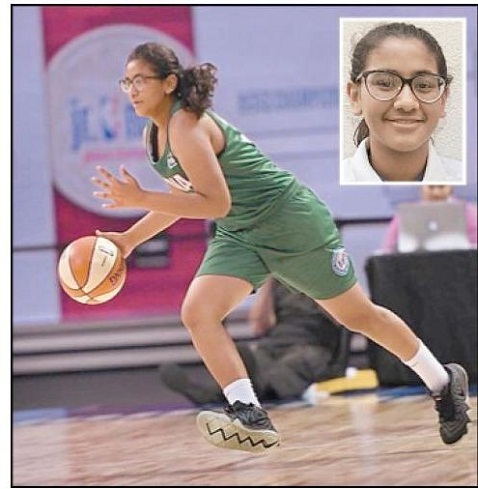 By Anupam Soni :
Gets scholarship for residential programme
CITY'S talented cager Shomira Bidaye is close to realising her dream of studying and playing basketball in the United States. The teenager received a letter from Woodside Priory Admissions Committee on Sunday that offered her admission to Woodside Priory's Residential Programme for the 2021-2022 school year. Shomira, who had earlier made it to the Junior NBA India Girls' team and led the Under-13 Maharashtra team to National Championship title in 2018 in Kangra, Himachal Pradesh after 14 long years always longed for a longer stint in the US. "It is a dream come true for her. She has been planning for study in US all the while and we, her father (ophthalmologist Dr Shashank) and myself, had very small roles to play. Shomira is excited to join the 11th grade class at Woodside Priory School, Portola Valley, California, USA," said an elated Dr Shivani, Shomira's mother, while breaking the news to 'The Hitavada'. "The agreement will cover her tuition fees, lodging an boarding charges. We will also have to deposit an amount that is not disclosed to us yet," added Dr Shivani, who is also an ophthalmologist.
"As a boarding student, she will enjoy many opportunities including calling the 50-acre campus as home. She will be part of exciting excursions the residential faculty plan throughout the year. She also stands a chance of make lifelong friends from other countries who have been offered the scholarships. I have learnt that there are players from Senegal, South Korea and other parts of the world who will be her batch mates," Dr Shivani informed. Having somebody to look at, helps one in life and 5 feet eight inches tall Shomira's inspiration is another city player Siya Deodhar, who is also a recipient of NBA scholarship and is presently studying at Kansas. On COVID precautions and protocol for travelling abroad, Dr Shivani said, "In India, vaccination for people under 18 years has not started yet.
I am not sure whether she will get vaccine before departure but I have learned that she will be administered the jabs upon arrival there." Dr Shivani wished to thank all those who helped Shomira in realising her dream. "I would also like to take this opportunity to thank her coach at California School Buck Mathews and NBA Academy coach Blair, who pursued her case. I am also grateful to Shatrughna Gokhale and Vinay Chikate, Shomira's Nagpur coaches at Shivaji Nagar Gymkhana. It would not have been possible without the support and co-operation from Centre Point School, Katol Road, management, principal and teachers," Dr Shivani signed off.