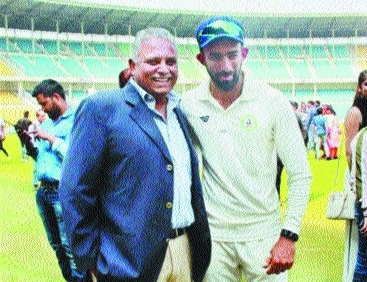 VCA President
Adv Anand Jaiswal
By Anupam Soni :
Compensation promised to players for cancelled Ranji Trophy 2020 season is yet to be disbursed; board blames state units for delay
LAST year, it was for the first time in Indian domestic cricket's history that the prestigious Ranji Trophy was cancelled. The COVID-19 pandemic, that affected sports all over the world, was the culprit. But the richest cricket board in the world — Board of Control for Cricket in India (BCCI) — showed magnanimity and had promised compensation to scores of First-Class cricketers whose bread and butter came from participating in the annual event. There are around 700 players, who don't have IPL contracts and make anything between Rs 10 lakh to Rs 20 lakh in a full domestic season with maximum earnings coming from Ranji Trophy where they get a match fee of Rs 1.40 lakh per match. Year after compensation promise, disbursement has not yet happened and the BCCI has squarely blamed state units for the same. "We have to discuss with states because they have to tell us who would have played, how many matches, who would have been in reserves.
None of the states have sent any proposal for the compensation package," BCCI Treasurer Arun Dhumal told a news agency on Monday. While clearing the air around it, Vidarbha Cricket Association President Adv Anand Jaiswal, while talking to 'The Hitavada' said, "We did not receive any instruction or communication from the BCCI regarding raising any bill for payment for last year's Ranji Trophy. They definitely had mentioned that they will compensate the players but regarding how and when they would be doing that, we have no information." Jaiswal informed about the routine process. "The normal system is the BCCI tells us about the amount they offer us and asks us to raise a bill regarding the same. Then we raise the bill and send them details like number of players and who played how many matches and then payment is released. Regarding last year, since no matches were played and there was no information sought from our side, how come we would have raised a bill," he said.
Dhumal also claimed said that this year's Vijay Hazare and Syed Mushtaq Ali Trophy payments (Rs 35,000 per match) have been cleared. VCA had completed all the formalities regarding payments for both the white ball tournaments. "We had sent all the requisite documents (for both the tournaments) and it is quite possible that the players got the payment. The amount is directly credited into their personal accounts and VCA is not in the know how whether the amount is deposited or not," VCA CEO Farokh Dastoor cleared. The issue of delay in payments cropped up when an article in a UK newspaper said that the BCCI was yet to share the T20 World Cup runners-up prize money of USD 550,000 with the Indian women's team.