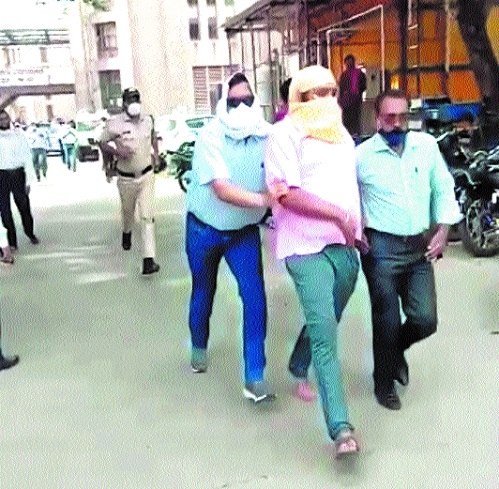 Policemen arresting Harkaran Singh Mokha at the District Court premises.
Staff Reporter :
Police arrested absconding accused Harkaran Singh Mokha, son of City Hospital Director, accused in the fake Remdesivir injection case, as soon as he arrived to surrender in the District Court premises, on Monday. Harkaran is the son of Sarabjeet Singh Mokha, Director of City Hospital, and was absconding after being booked for destroying evidence of thte fake Remdesivir injection case. Additional SP (City), Rohit Kashwani, while talking to 'The Hitavada', informed that the police arrested Harkaran Singh Mokha when he reached the produce himself before the court and took his custody for inquiry.
Police will would produce him before the court on May 25 and try to obtain his remand for further investigation. Police have already applied for police remand of Sarabjeet Singh Mokha. Besides this, police also nabbed another accused, Rakesh Sharma of Indore who played key role in supplying fake Ramdesivir injections from Gujarat to Indore and Jabalpur. ASP, Kashwani added that police had arrested Rakesh Sharma on Sunday night and seized his mobile handset and a car as evidences of his involvement in supplying fake Remdesivir injections to Sarabjeet Singh Mokha while his bank accounts are being scanned for obtaining evidence of money transactions.
Rakesh Sharma disclosed that he took 65 bottles and his friend Sapan Jain took 35 bottles from the consignment of 500 bottles of fake Remdesivir injections and rest 400 injections were supplied to Sarabjeet Singh Mokha. After the raid on factory of fake Remdesivir injections in Gujarat, he and Sapan Jain had destroyed the injections of their share and thrown them into river Narmada from Tilwara bridge. ASP, Rohit Kashwani informed that on the identification of Rakesh Sharma, police had recreated the scene of throwing injections into Narmada river from Tilwara bridge and deployed a team of divers in search of injections into the river.