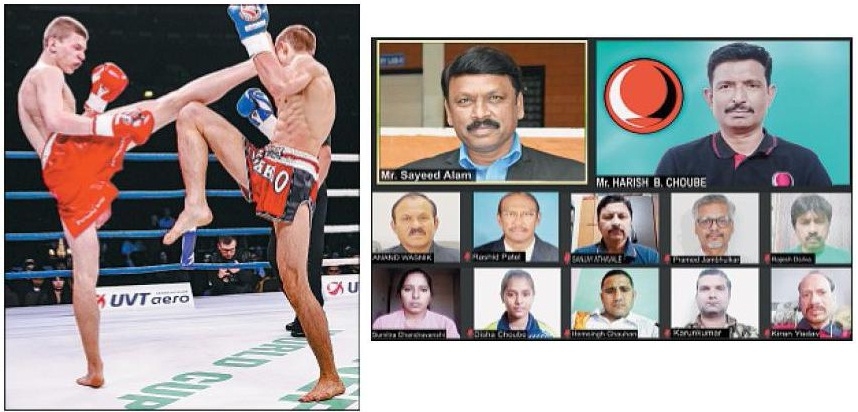 Sports Reporter ;
COMPARING kickboxing with yoga, cycling and aerobics, Saeed Alam says that the former requires high level of fitness while the others are low intensity workouts. Saeed Alam, International Kickboxing Referee and a self defence expert was the guest speaker on webinar being organised by Karate Budokan International (Vidarbha Region). Kyoshi Harish Choube, National Chief, Instructor and Examiner Karate Budokan International and Sports Coordinator is host of the show. Elaborating on the fitness benefits of kickboxing, Alam said, "Kickboxing's high power cardio routine helps in boosting body and mind. Walking an hour does not result in as much weight loss as 10 minutes of kickboxing. Yoga, cycling, aerobics are low intensity workouts but high level sports fitness is found in kickboxing."
Alam explained in detail about the sport. "Kickboxing consists of seven events which are divided into two parts, one is ring sports and the other is tatami sports. There are three events in ring sports. In full contact event, opponents are allowed to hit each other with punches and kicks, striking above the waist. Elbows and knees are forbidden and the use of the shins is seldom allowed. Clinch fighting and grappling are forbidden, sweeps are legal but vary depending on the referee. "Low-Kick, the second event, can be defined as full contact kickboxing in which there is also the possibility of attacking the opponent's legs with clean kicks. All other definitions are as those of full contact kickboxing," said Alam, who has been awarded sixteen International Awards.
Alam also informed in detail about the kits and safety equipment used. "Different events of kickboxing are played by wearing different kits. The flower contact event requires seven safety kits for men and eight for women. Head guard, mouth guard, hand rape, gloves, groin guard, shin guard, guard for foot protection. These are for men and it is mandatory for women to wear another chest protection device. Some words are more commonly used in kickboxing such as hook, jab, cross, upper cut, back fist, over hand, front kick, side kick, semicircular kick, round house kick, X-kick, sweeping, slip bob and wave, parry/block, cover up, clinch, knock down, knock out. The flower contact fight is of 3 rounds, each round is of two minutes and there is a break of one minute between each round," he said. Kickboxing is a School Games Federation of India recognised event. "Kickboxing is also recognised game in the School Games Federation of India and All India University.
The sport is recognised by the Council of Asia and was included in the first Asian Indoor Martial Arts Games," he informed. If one is contemplating joining the sports, one must do the following things according to Alam. "If kickboxing is adopted as a sport, one must first choose a proper academy and a good coach. The International Olympic Committee awarded recognition to the World Association of Kickboxing Organisations (WAKO) on November 30, 2018. In India, the India Kickboxing Federation is currently recognised by WAKO. One must check affiliation of the institution (of state and district), before taking admission in the club or the academy," he said. At the end of question and answer session, Disha Choube proposed a vote of thanks.