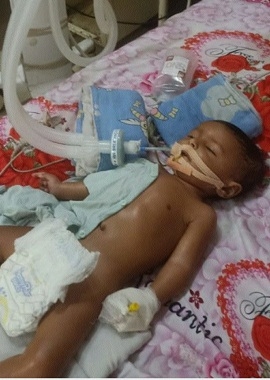 Staff Reporter :
Nine-month-old Ayush Arkhel, was admitted at the NICU Care in Paediatric ward of the Netaji Subhash Chandra Bose Medical College Hospital for treatment of Spinal Muscular Atrophy (SMA) Type 1, lost the battle against the rare genetic disease. Little Ayush passed away while undergoing treatment at around 7 pm on Monday. It may be mentioned that Ayush was initially admitted in the Paediatric ward for treatment of pneumonia where the doctors diagnosed him with SMA Type 1. The little baby was put on ventilator support and needed urgent help as a gene therapy costing Rs 16 crore was the only shot of life for him.
The injection needed for Ayush's life was available in America and cost around Rs 16 crore. Ayush's father, Amar Arkhel, a resident of Jhanda Chowk, Premsagar Chowki, was working as a teacher in a private school and somehow managed only two square meals for his family. The family also appealed to the common public for crowd funding to protect their son's life. It may be mentioned that SMA is a disease caused by loss of nerve cells, which carry electrical signals from the brain to the muscles.
The protein needed for this signaling is coded by a gene for which everyone has two copies-one from the mother and the other from the father. A child develops this disorder only if both the copies are faulty. Without treatment, this disease is ultimately fatal. With progress, the disease makes it difficult for the babies to carry out basic activities including sitting up, lifting their head or swallowing milk.