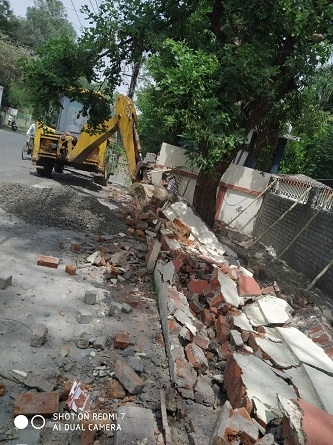 Staff Reporter :
The Jabalpur Smart City Limited and Jabalpur Municipal Corporation (JMC) have expedited efforts for construction of smart roads under the phase 3. Following the direction of Municipal Commissioner Sandeep G R, all concerned senior officials are working hard to start construction work as early as possible. Accordingly, the Anti-encroachment Department is removing the obstructions which are coming in the way of construction of smart roads.
The anti-encroachment squad, on Monday removed a big boundary wall and other temporary structures on Home Science College road which were obstructing road construction work. Sandeep G R informed that the Smart City Limited is to construct 800 meter long and 18 meter wide smart road from Shashtri Bridge to Madan Mahal. For the same, the JMC administration has identified encroachments which are creating hurdle in construction of Smart road under phase 3.
He said the Smart City Limited would complete a number of development works after the rainy season. Executive Director of Smart City Limited, Sandeep G R said he has issued strict direction to concerned officials, contractors and consultants for construction of roads including Naudra Bridge to Ghantaghar, Christ Church school, District Court to Collectorate ad other roads. He said the Smart City and JMC administration would take strict action against the officials and contractors for any negligence if paid in the construction work.