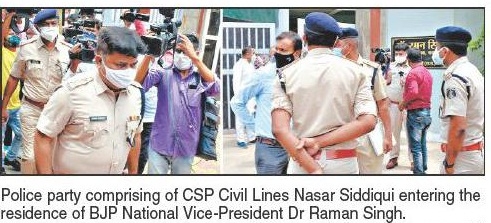 Staff Reporter :
RAIPUR,
Cops questioned him on the basis of FIR lodged against him for his tweet #Congress toolkit exposed
Police team led by CSP Civil Lines Nasar Siddiqui, reached the residence of Bharatiya Janata Party National Vice-President Dr Raman Singh on Monday afternoon for questioning him on the basis of FIR lodged against him for his tweet #Congress toolkit exposed#, but left within ten minutes after accepting his written reply. Police party comprising of CSP Civil Lines Nasar Siddiqui, SHO Civil Lines R K Mishra, SHO Telibandha Sonal Gwala and other staff members reached the Maulshree Vihar residence of BJP National Vice-President Dr Raman Singh for questioning him as per the prior notice served by Civil Lines police for questioning against an FIR lodged against him.
The BJP National Vice-President Dr Raman Singh while answering to queries generated by the notice issued to him on May 21, 2021 under Section 41(A) and Section 91 of Criminal Procedure Code, said his official twitter account/handle is @drramansingh. Messages and comments posted in his twitter handle are available in public domain and the police can read and witness it from anywhere. Refusing to provide access to this twitter account, Dr Singh said that his twitter account possesses his personal information, hence the access to his twitter account not only violates legal and constitutional provisions but it is also an abuse of his basic rights of privacy. He added that the tweet messages here in question, were available in the public domain even before he had tweeted along with his personal opinion along with documents attached on May 18, 2021. He replied that all twitter messages connected to #Congress toolkit exposed#, all of them are available on his twitter page publicly.
The former Chief Minister further stated that he's the National Vice-President of a National Political outfit and had been Chief Minister of Chhattisgarh continuously for 15 years. During this period he has seen Chhattisgarh police to function vigilantly with a very clean image. But since the last two years this image is gradually becoming tarnished. In order to please its political bosses, it is filing FIRs which are ostensible and filed with political and personnel vendetta and in the past different courts had intervened and quashed such FIRs. Dr Singh said that the tweet he had made on May 18, 2021, expression of his personal opinion. At a time when the whole country is engrossed in fighting against the COVID-19 pandemic, the Congress through its pre-planned strategy of #Congress toolkit#, carried out its campaign of vicious propaganda to mislead the people and spread anarchy.
It is trying to suppress his voice and his right to expression by forcing an FIR, which is unconstitutional and condemnable. Dr Singh said the police had lodged FIR in haste and under pressure without registering the statement of the complainant and without verifying the authenticity of the complaint. From the questions asked by the police it seems the whole process has been carried out with an intention to save the credibility of the Congress party by misusing the powers of police. This FIR has been lodged to personally target him and to malign his image and to take out political vendetta against him.