City lads develop App to give alert for availability of slots after vaccine registration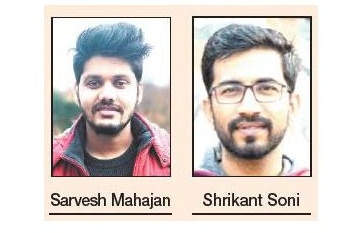 To provide relief from long wait for vaccine slots, city lads Shrikant Soni and Sarvesh Mahajan have developed an App that will provide alert message to the person concerned for availability of vaccine slots after registration. Srikant and Sarvesh informed that the user will have to register themselves by providing basic details like pin code and address into the App. If the vaccine slots are available, the registered user will receive an alert message. They said that where there is a facility of internet, user will receive a notification via email.
Explaining about the idea about their App, Srikant and Sarvesh said that they came across instances where there was no information about slot availability or adequate numbers of slots were not available. Hence, they decided to develop a website that would give notification about slot availability to the people. Sarvesh said that there will no charges for registration on the website. He added that after registration, the user will receive an alert message once. If the user fails to receive vaccine, the concerned user will have to register again on the website. The previous registration will be cancelled. Srikant added that the website does not store the data of users and deletes it after user receives an alert about the vaccine slots.