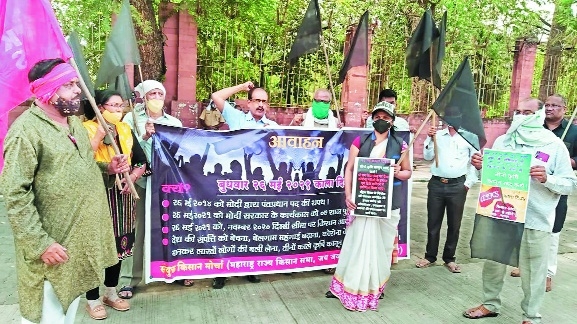 Business Bureau ;
The Samyukt Kisan Morcha (SKM) and the CTUs, independent sectoral federations/associations had given a call to observe May 26, 2021 as a 'Black Day' for Indian democracy. It is also the day when the all-India strike called by the Central Trade Unions (CTUs) on their continued demands for cash transfer to poor families, universally free rations to all needy, expansion of MGNREGA and new employment scheme for urban areas, against privatisation of PSUs and government departments, for scraping NPS and restoration of earlier pension scheme etc., becomes 6 month old.
All India Trade Union Congress (AITUC) General Secretary Amarjeet Kaur said that the reports reaching the AITUC headquarters show that there was a spontaneous outpouring of resentment against the Government. Some of the demands include free vaccine for all, strengthen the Government run public health system at all levels, immediate help to all unorganised/informal sector workers and unemployed people in terms of free food grains and cash subsidy of Rs.7500/- per month, repeal 3 Farm Laws, withdraw Electricity (Amendment) Bill, 2021, enact law guaranteeing Minimum Support Price of farm produce, withdraw 4 Labour Codes & draft central rules and convene Indian Labour Conference immediately. Put a stop to policy of privatisation/corporatization of PSUs and Government departments, withdraw all arbitrary suspension of 38 Labour Laws for a period of 3 years violation of collective bargaining convention 98, convention 144 tripartite meeting and consultations etc.
At Nagpur AITUC workers staged dmonstrations at Samvidhan Chouk to observe 'Black Day.' The activists gathered with black flags and banner to protest against Central Government under the leadership of Shyam Kale, General Secretary, AITUC, Maharashtra State, Arun Vankar and Yugal Rayalu. AITUC affiliated unions and independent organisations including All India Bank Employees Association (AIBEA) from banking sector, General Insurance Employees' All India Association (GIEAIA) from insurance sector, Maharashtra State Electricity Workers from power sector and Anganwadi workers had shown soliderity to the agitations, informs a press release by Prashant Dixit.