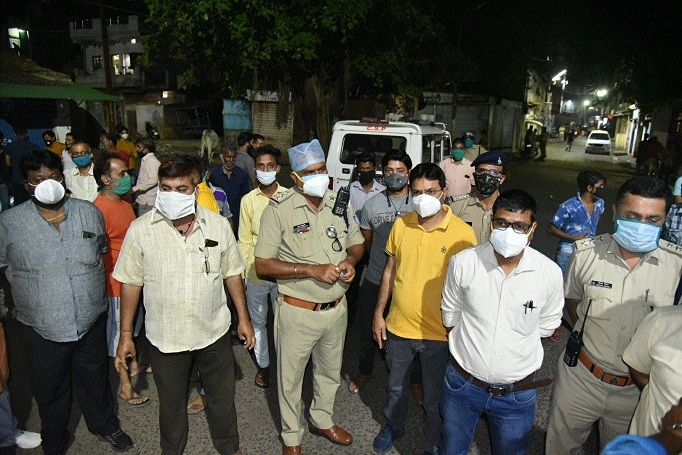 Sangh members with administrative officers after meeting. (Pic by Anil Tiwari)
Staff Reporter :
Now purchasing of vegetables, potatoes, onions and fruits at Krishi Upaj Mandi will be allowed from 10 pm to 2 am to avoid unwanted gathering of retailers
In view of precautions due to COVID infection, District Magistrate and Collector Karmveer Sharma has fixed the timings for operation of vegetables, potatoes, onions and fruit market at Krishi Upaj Mandi from 10 pm and 2 am to avoid unwanted gathering of vegetable retailers. Only wholesellers will be allowed to purchase green vegetables, potatoes, onions, and fruits from the Krishi Upaj Mandi between the fixed timings. Retail business will be completely restricted in the Mandi premises. If traders are found guilty of violating restrictions, their permissions will be cancelled followed by sealing of their shops for one month.
Collector Sharma has fixed 11 purchasing spots where the retailers and hand-carter vendors can purchase vegetables, potatoes, onions and fruits between 2 am and 5 am. However, traders and vendors dealing in retail business have strictly opposed the timing fixed by the Collector. Calling a meeting with the administrative and police officers at Niwarganj Vegetable Market, President of the Jabalpur Futkar Vyapari Sangh, Shivraj Singh Thakur mentioned that the timing fixed for wholesale business is completely irrelevant. Sharing the traders' problems, Thakur demanded to change the timing between 4 and 8 am for retailers. The meeting was attended by SDM Rishabh Jain, CSP, Deepak Mishra, Tehsildar Rajesh Singh and TI Lordganj, Prafull Shrivastava and the members of Futkar Vyapari Sangh.