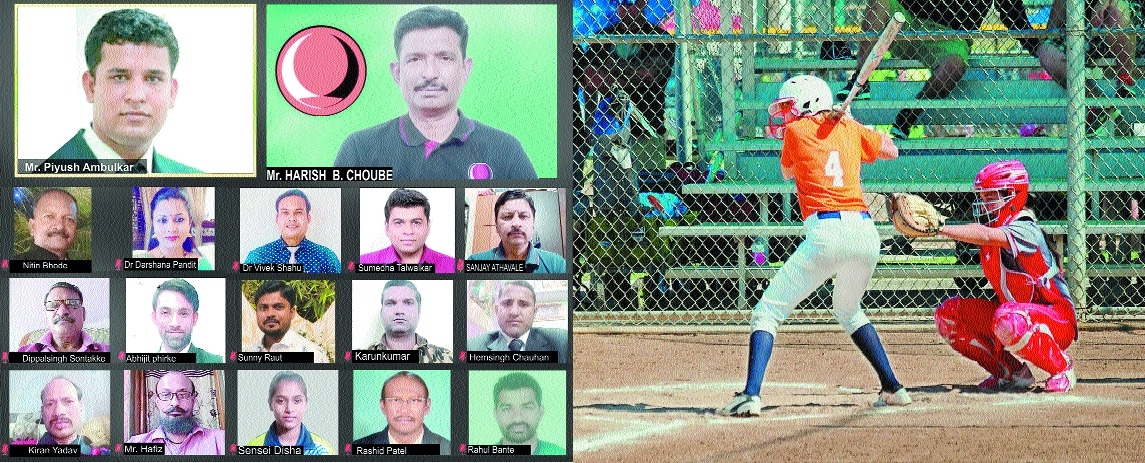 Principal Correspondent :
Softball is played between two teams of nine players each. There is also an option to have up to two extra hitters in the batting line-up (for a maximum line-up of 12 players). Pitcher (P), Catcher (C), First Baseman (1B), Second Baseman (2B), Shortstoper (SS), Third Baseman (3B), Left Fielder (LF), Centre Fielder (CF) and Right Fielder (RF) are fielding positions.
"A shortstopper is team's most versatile and quickest player in softball. He tends to have the most responsibilities and most amount of action per game," said Shiv Chhatrapati award winner Piyush Ambulkar on Wednesday. International softball player of the city Ambulkar, who is also Sports and Cultural Officer, NMC and founder member, Slum Softball Star Project, was speaking during the online Karate and Sports Seminar for Physical and Spiritual Development of Sportspersons organised by Karate Budokan International (Vidarbha Region). Kyoshi Harish B Choube, Black Belt 7th Dan, National Chief Instructor and Examiner, Karate Budokan International and National Sports Co-ordinator, is the host of the webinar.
"The positions in softball are the same as in baseball. There are a total of nine positions that are always played by the fielding team," he said. Speaking further about the game, Ambulkar said that the best position to play in softball is usually the shortstop position given that the shortstopper is usually the team's most versatile and quickest player. That position tends to have the most responsibilities and most amount of action per game. About the inception of the game in the city, Ambulkar said, "Nagpur Softball Association (NSA) was founded in 2007 and has evolved into one of the strongest softball organisations in the State. The growth and development of the association led the Indian Olympic Association to name the NSA as the District Governing Body of Softball."
Ambulkar said that in year 1944 and 1945 some of Indian citizen played softball with American Army stationed in Jodhpur. Dr Dashrath Mal Mehta his friends started playing softball regularly. "First time this game was started in Rajasthan and after that it spread throughout the country, Dr Mehta formed Softball Association of India in 1961 under the guidance of Dr LM Singhavi, Anand Singh Kachawa, Madanlal Pungalia and KD Gautam." Speaking about the game at international level, Ambulkar said, "International Softball Federation organised the first World Softball Championship (women) in Australia in 1965. The members of International Softball Federation agreed to visit India on way after world championship.
The American then team visited India at Calcutta in March, 1965 and played exhibition match with Indian team which proved boon for us. WW Khetan, President; Don A Porter, Secretary and Dickston, Umpire in Chief, International Softball Federation were with the team who conducted the first official clinic for Indian umpires. They cleared the rules on softball and system of umpiring on softball game," Ambulkar informed. "In 1965 the first rule book on softball game was published in country to promote the game in different States and two years later first national softball championship for men and women was organised at Jodhpur. Teams from Andhra Pradesh, Delhi, Maharashtra and Rajasthan participated in the championship." In the year 1973 the Softball Association of India was recognised by All India Council of Sports. "We did our best to promote softball game in country and sent our teams to participate in the Asian Championships for men and women.
We organised coaching camp for coaches first time in Panaji (Goa). Forty-two Indian coaches (men and women) attended the camp. Le Min Kuan of China and Sanny Sultan of Singapore imparted the coaching. We also conducted umpires and coaching clinics in 1997 at Indore (MP). Tommy Wang of Chinese Taipei and Sunny Sultan of Singapore trained our umpires and coaches," said Ambulkar. Since the days of humble beginning in Rajasthan, softball in India has become a name to reckon with and its popularity is increasing day by day. Speaking further about the growt of the came in the city, Ambulkar said, "Nagpur Softball Association was founded in 2007 by Dr Suraj Singh Yeutikar. He laid the foundation for softball in the city.
"The NSA adopted softball's universally accepted rules of play and by organising consistent and fair competition across the nation. From this beginning, NSA has now become one of the States largest and fastest growing sports organisations. The NSA has grown from a few hundred member in the early days to over thousands of member today." The programme concluded with an interactive sessions. Renshi Karunkumar Tirpude of Karate Budokan International, proposed a vote of thanks.