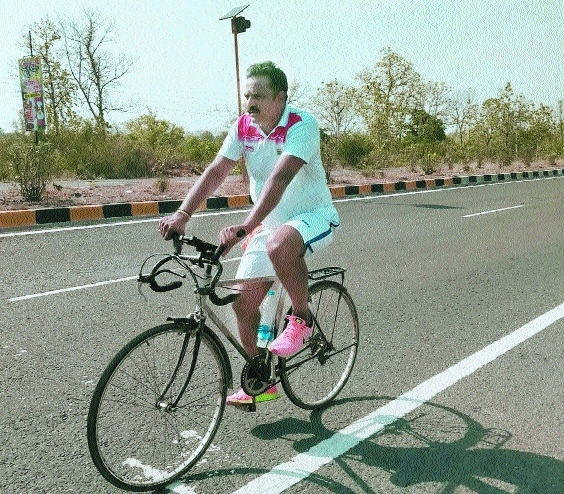 Principal Correspondent :
To submit memorandum to Sports Minister Kedar on Friday
WITH the State Government allegedly meting out step-motherly treatment to Chandrapur, Maharashtra Boxing Association (MBA) Secretary Dr Rakesh Tiwari, a resident of Bhadrawati, demanded Khelo India Boxing Centre (KIBC) at Chandrapur. To press his demands, Tiwari pedalled 126 kms from Bhadrawati to Nagpur. He will be meeting Maharashtra Sports Minister Sunil Kedar on Friday and would be submitting a memorandum demanding a boxing centre at Chandrapur district. Dr Tiwari started from Bhadrawati on cycle at 4 am on Thursday morning and reached Jamb at 7. He then moved forward and reached Nagpur at 11 completing his tiresome ride in six hours and 44 minutes. "I will be meeting Sports Minister Sunil Kedar on Friday morning at Krishi Bhavan at 11 am. I will be submitting a memorandum demanding a Khelo India boxing centre at Chandrapur.
I will also be reminding the Minister about the Sports Policy of Maharashtra," said Dr Tiwari. "Several cities of the State specially Chandapur has been neglected for Khelo India's boxing centre. This is a step-motherly treatment for boxing sport. Those districts who have asked for centres did not get them while those who did not even applied for, were handed over the centres," Dr Tiwari alleged. "Being secretary of Maharashtra Boxing Association I am not ready to accept this injustice meted out to the State and specially to Chandrapur district," he added. Dr Tiwari also said that the government should stop giving district sports complexes on contract basis to private coaches.
"The government is on a privatisation spree. They have given Dharavi Sports Complex in Mumbai on contract basis. District Sports Complexes should not be given on contract basis. Such decisions will only hamper the career of deserving players," Dr Tiwari stated. In his memorandum, Dr Tiwari stated that he is not fully opposing handing over district sports complexes to private firms and on contract basis. "I want government to give priority to sportspersons and sports events. The sports complexes in several districts are not available to needy sportspersons as private coaching is being done there. Due to this, sportspersons are forced to pay hefty fees to the coaches in such centres. A poor and not needy sportsperson is unable to pay the fee and is forced to train at a place where there is inferior facilities," alleged Dr Tiwari though his letter.
"If government is unable to run the coaching centres on their own, they can give them to registered district sports associations or former international players which will only benefit the sportspersons," felt Dr Tiwari. The MBA Secretary was also of the view that all the vacant posts in district sports officer should be filled immediately. "There are many posts of coaches and officials vacant in many district sports offices. This is hampering development and performance of sportspersons," Dr Tiwari reasoned. Dr Tiwari requested the Minister to take matter seriously and initiate immediate action on his demands. He also requested to help out players of Mumbai and other districts so that the sportspersons get better treatment and facilities at district sports complexes.