DMK Party workers celebrate during the counting day of Tamil Nadu Assembly polls result at their party headquarters in Chennai on Sunday. (PTI)
CHENNAI :
CHANGE of guard is all set to happen after 10 years in Tamil Nadu with the DMK-led alliance coasting towards an emphatic victory in 2021 Assembly polls. The DMK, led by its President M K Stalin, is leading in 121 of the state's 234 Assembly constituencies and if the trend continues, then it can form the Government on its own. The party-led front is leading in 143 Assembly constituencies (Congress 15, CPI and CPI-M two each, VCK three) for which the polls were held on April 6. On the other hand, the AIADMK-led front is leading in 90 constituencies (AIADMK 81, BJP 3 and PMK 6).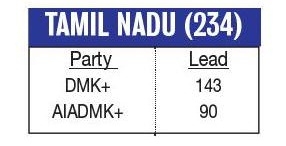 "In the history of DMK, a new chapter is set to begin," Stalin said in a statement. He said going by the leading position of the DMK-led alliance in majority of the constituencies, it is clear the party will form the next Government. "The AIADMK numbers may settle down further as the vote difference between its candidates and rivals in about 60 seats is narrow and the lead may reverse later," expelled former AIADMK Parliamentarian K.C. Palanisamy told IANS. The DMK-led alliance has notched up a comfortable lead routing the AIADMK front across the state barring the western belt where the latter is holding its own. DMK cadres celebrated by bursting crackers.