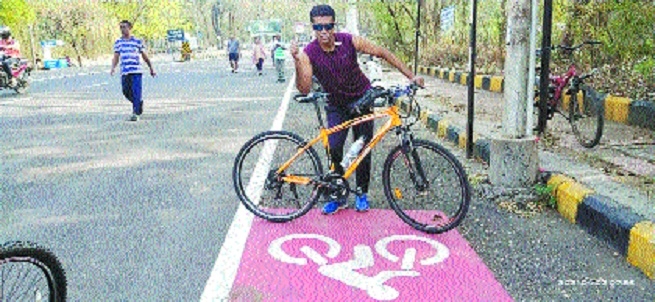 Nurul Hak posing on track with cycling logo painted on it.
By Anupam Soni :
UNDER its project of making Nagpur a Smart City, a joint venture of Nagpur Smart and Sustainable City Development Corporation Limited (NSSCDCL) and Nagpur Municipal Corporation (NMC) is in progress. Providing a dedicated bicycle track was one among the many projects the authorities planned to come up with. It was proposed to have an 18km long cycling track on city's roads. The cycling track is taking shape and it is learned that work of about five kilometres of the proposed track is almost complete. Work of the track that is coming up in the Nagpur West region, started on January 29. The track to be mostly concentrated in lanes surrounding main roads in west part of the city, completing a loop at Law College Square.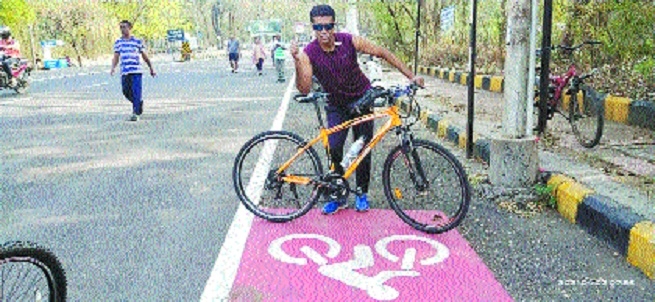 Members of Laughter, Riders and Runners Club (LRRC) pose with Israil Khan (L) looking after the Smart City work for NMC.
The 18km track will cover one stretch from Law College Square to Bole Petrol Pump, VIP Road, Alankar Square, Swargiya Annabhau Sathe Chowk, Neeri Square and back to Bole Petrol Pump. It will then cover Maharajbagh Square, Akashwani Square, VCA Square, Mason Lodge Square, Japanese Garden Square, Seminary Hills (via WCL), Vayusena Nagar, Hanuman Tekdi Road, Walker's Street, Ladies Club Square, Ahimsa Chowk and up to Law College Square. Under the first phase, NSSCDCL bicycle track on four km stretch which will start from Ramgiri to Ladies Club, Law College Chowk, Maharajbagh, VCA ground, Japanese Garden and back to Ramgiri has been taken. The work of marking remaining track will be taken up later. Members of city's Laughter, Riders and Runners Club (LRRC), who take pride in promoting bicycle riding and running for better health, were called for having a look at part of the new cycling track that has been completed at Walker Street.
"Members of our club were invited to have a look at the new track by Israil Khan, who is looking after the Smart City work for NMC," informed LRRC's Nurul Hak, who is also active member of the organisation that conducts the Senathon, while talking to 'The Hitavada'. Hak said that the members had a good interaction with Khan and presented their views. "As running and cycling enthusiast, naturally we all are happy that a cycling track is coming up in the city. But we also pointed out the shortcomings. We informed him that it was tough to cycle on the track as lot of vehicles are parked on the road.
This is a sharing track and that we said that a separate cycling track would have been a better option. We expressed our feelings that NMC should plan in such a way that it remains a separate track," Hak added. Members of LRRC Nalin Mathijia, Anuj, Javed Hayat, Sushil, Topendra, Deepak Godhani, Anil Tekwani, Pankaj, Bunty, Pravin, Amaresh, Renu, Siddhu, Naina, Rajni Gedam, Rupa, Binnu and Yogita were present on the occasion.