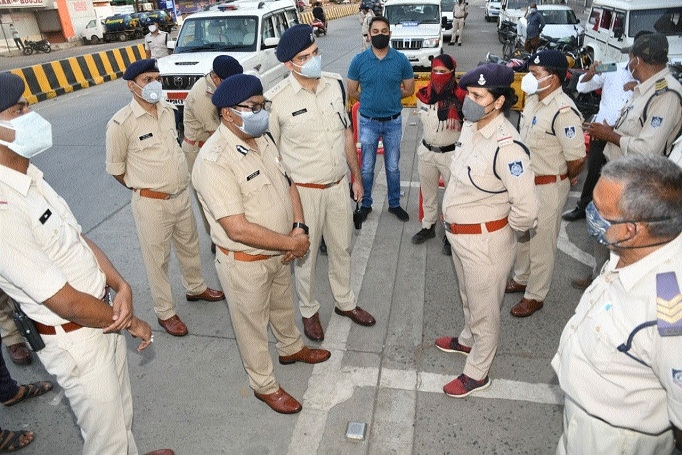 IG B S Chouhan, accompanied by SP Siddharth Bahuguna,
interacting with on-duty police personnel.
Staff Reporter :
Inspector General of Police (Jabalpur Zone) Bhagwat Singh Chouhan (IAS) conducted inspection of police checking points and encouraged police officers and personnel to take care of their health and ensure strict enforcement of lockdown, on Saturday evening. IG Chouhan, accompanied by Superintendent of Police, Siddharth Bahuguna (IPS), inspected police checking points at Pentinaka, Ganesh Chowk Sadar, Katanga Crossing, Bandariya Tiraha, Rampur Chowk, Chhotiline Fatak, Bus Stand, Malviya Chowk, Badi Omti, High Court Square. During the visit, IG Chouhan interacted with police officers and personnel and urged them to ensure following necessary precautionary measures for protection of themselves while performing duties.
He appreciated working of police in maintaining law and order arrangements and strict implementation of lockdown norms. He also told policemen to contact him directly in case of any problem. IG Chouhan and SP Bahuguna also interacted with workers, rickshaw pullers and labourers and appealed them to follow COVID-19 protocol and distributed face masks, ORS packets, hand sanitisers and food packets amongst them in different areas.