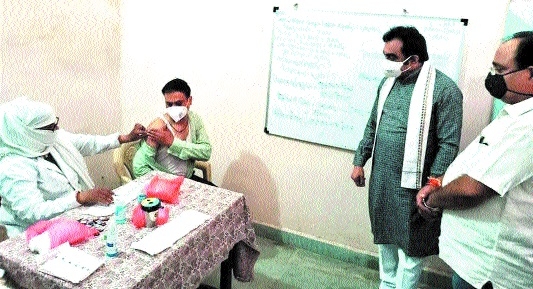 MP Rakesh Singh inspecting vaccination drive at Vidyapati Primary School Centre.
Staff Reporter :
Member of Parliament Rakesh Singh inspected a vaccination centre set up to administer covid-19 vaccine to people above 18 years at Vidyapati Primary School in Kanchghar. During inspection, he held discussion with people who arrived at the centre to take vaccine shot. Later, Singh also inspected arrangements being made for vaccination and gave necessary directions to officials concerned. Speaking on the occasion, Singh said vaccine is the right defense from coronavirus.
He said vaccination work has been done at a brisk pace at many places in the city. Singh said vaccine is the last solution to prevent a pandemic like covid-19 and everyone should worry about it that people above 18 years of age must get the vaccine at the earliest. He said vaccine is now being administered at a number of places in the city and similar arrangements are made at the centre. The Member of Parliament on the occasion thanked scientists of our country who have made indigenous vaccine in a short span.
He said due to willingness and planning of Prime Minister Narendra Modi, vaccination is going on in every part of the country and in time to come, we will defeat coronavirus, added Singh. BJP City President G S Thakur, Mandal President Yogesh Lokhande and other party leaders were also present on the occasion.