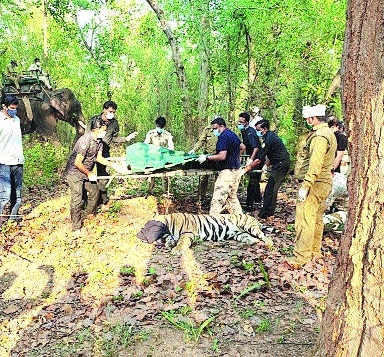 Tiger being shifted to Mukundpur Zoo.
Staff Reporter :
A four-year-old young tiger kept in Magdhi enclosure of Bandhavgarh Tiger Reserve has been shifted to Mukundpur Zoo. The tiger was rescued from Arahariya jungle after tigress T-25 died about four years back. The tiger is brought up by human being due to which he is accustomed of human presence. Another two cubs, one male and one female, were also rescued with this tiger. Tigress was shifted to Van Vihar National Park during year 2020 and male cat was shifted to Satpura Tiger Reserve. All the three cubs were rescued by Bandhavgarh team at tender age of 12 days. An expert team checked the skills of tiger last week and tried to release him into wild.
The team said tiger unsuitable to release into wild and then officials permitted to shift him in other zoo. Vincent Raheem, Field Director of Bandhavgarh, said, "The tiger is unsuitable to release into wild so he has been sent to Mukundpur. Doctors team was also there with tiger during transportation." He further informed that demand was being made by Mukundpur Zoo for tiger. A team from the zoo reached Bandhavgarh on May 27 and then the tiger was tranquillised for translocation.