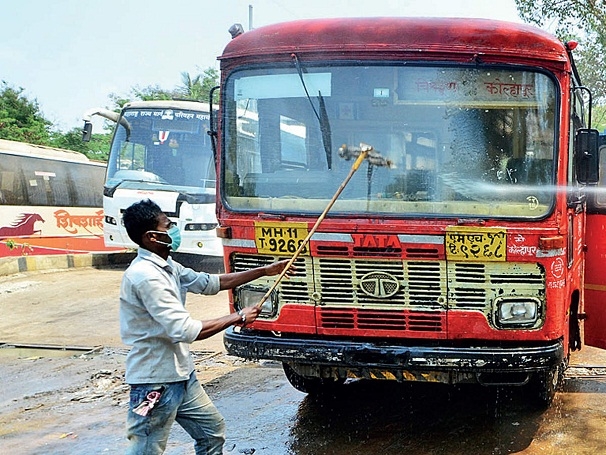 ■ Staff Reporter :
■ MSRTC has launched 'Mahacargo' goods transport service in a bid to increase revenue
AGAINST the backdrop of losses incurred during the prevailing COVID-19 pandemic, Maharashtra State Road Transport Corporation (MSRTC) launched goods transport service by the brand name 'Mahacargo' under which changes passenger buses have been modified into goods transport carriages. Now, the State Government has asked various departments to give at least 25 per cent of the goods transport jobs to MSRTC. Also, tyre retreading of at least half of the Government vehicles is to be done at MSRTC's workshop. So far, under 'Mahacargo', MSRTC has converted 1,150 passenger buses into goods transport vehicles through such modifications.
As per the latest information, it has finalised standard operating procedure (SOP) for operation of goods transport.Till date, MSRTC has operated 90,000 trips covering 125 lakh kms, and transported approximately 7 lakh metric tonnes of goods of different kind. Buoyed with the experience, Home Department has recently asked various departments to allot 25 per cent of the goods transport jobs to MSRTC. These departments, except Food and Civil Supplies and Consumer Protection Department, have been asked to provide 25 per cent of the transport jobs for which they carry out tender process and rope in private transporters. The rates at which they give jobs to private transporters will be applicable in case of MSRTC too. However, MSRTC will not be required to participate in the tender process, stated a recent communique issued by Meghana Shinde, Desk Officer, Home Department. Similarly, tyre retreading of 50 per cent of public transport vehicles, municipal transport vehicles, and other Government undertaking vehicles should be done at Tyre Retreading Plant of MSRTC. Besides, the maintenance and repairs of heavy vehicles and big passenger transport vehicles of Government departments should be done at MSRTC's respective Divisional Workshop, states the communique.
Transport Department of State Government issued a notification on May 18 last year to permit MSRTC to transport goods by passenger buses on stage-carriage till further notice. Accordingly, MSRTC started goods transport by transporting consignment of mango boxes from Ratnagiri to Mumbai on May 21, 2020, for the first time. Later on, given the response to the service, MSRTC modified passenger buses. It removed passenger seats, carried out fabrication of doors in the rear end of the bus, bulk-head partition, closing of windows with panels etc.
In the process, already, MSRTC goods transport service has got several clients ranging from District Collectors for transport of foodgrains under public distribution system, Balbharti, Mahabeej, Election Commission for transport of electronic voting machines, Forest Department for transporting saplings, Food Corporation of India, Rashtriya Chemicals and Fertilizers, Shirdi Sansthan, and even big private companies etc. It has transported mangoes, fertilizers, foodgrains, seeds, sugar, vegetables, construction material, industrial goods, oils, solar equipment, cement, non-hazardous chemicals, automobile parts, books etc. 'Mahacargo' facility is available 24x7 throughout Maharashtra.