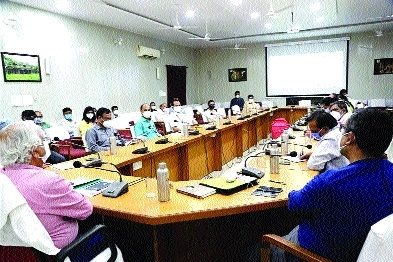 Divisional Commissioner Kavindra Kiyawat addressing a corona review meeting at his office in Bhopal on Monday.
Staff Reporter :
The RT-PCR reports of corona patients should reach to them within 24 hours, make a network, connected to the virology laboratories, and also appoint a nodal officer for the same, said Divisional Commissioner Kavindra Kiyawat on Monday. The Divisional Commissioner gave the above directions to all Collectors and CMHOs in Bhopal Division. Kiyawat said that to prevent coronavirus infection from spreading it is necessary the persons concerned receive their reports on time. If the infected person is identified on time, the person won't spread infection and will also get the treatment on time.
He added that the time taken for the samples from different districts to reach Bhopal Virology Lab should be reduced so that the person concerned can get the report through SMS at the earliest. He also said during the review that all the nodal officers should ensure that the packaging and maintenance of the corona sample is done properly so that the sample does not gets damaged before it reaches the virology lab. He also said that in case of leakage of any sample due to some reason, the doctors should be informed and re-sampling of the person concerned should also be done. Along with this, he instructed the nodal officers to increase the number and use maximum transport vehicles to carry samples.