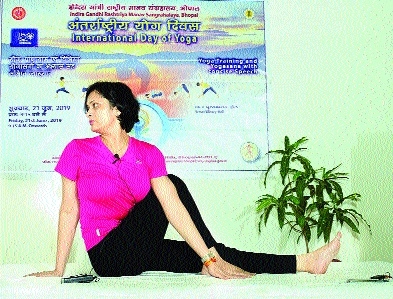 Yoga instructor
Akansha Sharma
Staff Reporter :
Chief Minister Shivraj Singh Chouhan has been joined by other volunteers in his 'Yog Se Nirog' campaign. District yoga instructor Akansha Sharma will take part in this noble cause. Under this, she made her usual yoga classes free for all on her Facebook and Instagram page, Yogamantra. The classes will run in the morning from 7 to 8 am. Yoga instructor Akanksha Sharma is committed to provide free online training to all through her online classes through Facebook. She will also start a yoga class within 2 days to increase immunity as special immunity booster for infected people and people in home isolation.
Akansha is trained in Yoga and also has a degree and diploma and is training people for past ten years now. People from all over the world are learning yoga from her. She told on the call of CM's 'Yoga Se Nirog' campaign she has opened her classes for all so that people can seek benefit from it. She also informed that she will take separate sessions for the ones who have recently overcome with the disease. Also she will take a separate session for boosting immunity of women and children for two days.
She said a healthy body and better immune system is likely to deal with the disease better than the one who are less immune. She further added yoga is one of the best possible way to enhance immunity. She said she is providing Yoga training for past ten years but will now do it for free. Also she will answer all the questions asked by the trainees. She felt grateful for getting a chance of not only serving the residents of the city but the country as well. She asked people to do Yoga and also join her on facebook and instagram for the sessions.