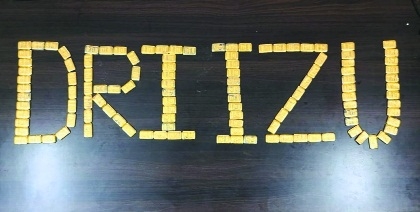 By Mukesh S Singh :
Raipur/Rajnandgaon,
Perhaps, in one of the biggest-ever hauls in the country so far, sleuths from Directorate of Revenue Intelligence (DRI) seized a massive consignment of smuggled silver and gold to a mind-boggling tune of nearly Rs 42 crore, in addition to unaccounted cash Rs 32.50 lakh, following a 48-hour long search operations in Raipur and Rajnandgaon district of Chhattisgarh. It is pertinent here to mention that DRI is the apex intelligence and investigative agency for matters relating to violations of Customs Act, which comes under authoritative jurisdiction of Central Board of Indirect Taxes and Customs, Ministry of Finance, Government of India.
The search ops, undertaken by DRI Raipur Regional Unit (RaRU), which works under the authoritative jurisdiction of Indore Zone Unit, aimed at busting a smuggling syndicate being run by a jeweller, based in restive-Rajnandgaon district, in cahoots with his unholy vices in capital Raipur. "In continuation of DRI commitment in anti-smuggling and narcotics operations, based on specific intelligence DRI apprehended two persons carrying foreign origin smuggled gold by train from Kolkata to Rajnandgaon, who were intercepted by DRI officers at Raipur and foreign marked gold bars weighing 13.53 Kgs were recovered from them which was concealed by strapping the gold with help of cloth on back," a top DRI brass, an Indian Revenue Service (IRS) cadre officer, told The Hitavada, requesting anonymity. In follow-up operation Rajnandgaon, Chhattisgarh two persons who had come to collect the said smuggled gold and the final recipient (a Jeweller) of the said foreign origin gold bars were also identified.
Subsequently, in search of the premises of the M/s Mohini Jeweller, owned Jeweller Jasraj Shanti lal Baid, resulted in recovery of silver weighing a mind-boggling 4.5 tonne (4545 kilogram) and gold bullion and its pieces weighing 4.65 Kgs, in addition to unaccounted cash to the tune of Rs. 32.35 lakh – as sale proceeds of smuggled valuables. "The total value of seizure is reaching nearly a whopping Rs 42 crore," the official said, adding further, these commodities and cash have been seized under Customs Act. According to this official, these operations have been conducted against smuggling of gold and silver. In the said syndicate, as of now, the roles of five persons have been revealed. "In past this syndicated has smuggled foreign origin gold in huge quantities and evaded Customs duty and other Government dues. Most importantly, the officers of DRI during the search operations worked day and night amid the peak of the ongoing Covid-19 pandemic and resultant lockdown, while following all safety protocols.
According to this high-ranking official, the accused jeweller was actively involved in smuggling of gold and silvers in ingots from some neighbouring country, which they melted and changed into bar form. In this operation, DRI, which is firm in its commitment against smuggling and narcotics, was very well assisted by Chhattisgarh Police, Raipur Customs, Raipur CGST, Raipur Railway Protection Force (RPF) officers. Further investigation in the matter is underway, he added. Though this official refused to divulge anything further about the ongoing operations, he affirmed that they have sealed the premises, covered the swoop and from whereupon the seizures were done. Around a dozen of DRI personnel took part in the discreet operations about which no media houses in Chhattisgarh had any whiff about it until Monday morning few local media persons of Rajnandgaon spotted sudden hustle-bustle of DRI officials and their official vehicles outside the premises of the accused jeweller.