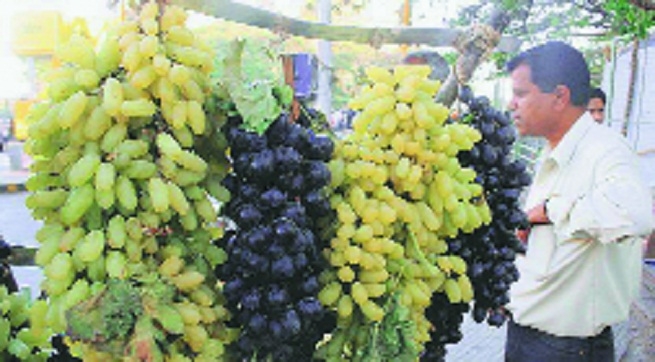 Business Bureau :
The grape prices have almost doubled from the past one month due to lower supplies in the wholesale market. The green grapes are being quoted at Rs 60 per kg to Rs 70 per kg as compared to a month ago at Rs 30 per kg to Rs 40 per kg. "The prices of grapes (capsule variety) have increased due to scanty supplies in the wholesale market," said Anand Dongre, President of Nagpur Fruit Dealers Association, Kalamna Wholesale Market while speaking to The Hitavada. He further said that on an average daily about 2 to 3 trucks arrive at the Kalamna wholesale market.
One month ago about 10 to 12 trucks on daily average would unload the grapes at the market. The juicy grapes mostly come from far off places like Sangli, Miraj, Kolhapur in West Maharashtra. Grapes from Nashik are mostly exported or consumed in winery. A large truck contains about 10 tonnes of the fruit while the smaller pickup contains about 5 tonnes. Shubham Rangari, grape wholesale vendor said that it is the grape prices have increased as it is end of the grape season and supplies have almost dried up.
The grapes season is from February to April. It is expected that the grape supplied would end by the first week of May. He said that there is good demand for grapes in the city. About 1 to 2 trucks are consumed in the city itself and the rest are supplied to Gondia, Bhandara, Wardha, Chhindwada, Bilsapur and many other nearby places. People mostly prefer the seedless capsule shaped green grapes. The black colour grapes are of imported variety and are quoted at higher price.