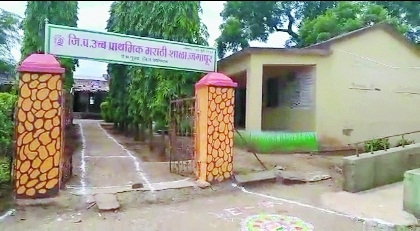 Pusad Correspondent :
A Zilla Parishad (ZP) school in Yavatmal district is winning praise on becoming the first ZP school in the State to announce its annual examination result online on May 1. It should be kept in mind that while this is nothing extraordinary for the urban and private English medium schools, it is an achievement for a ZP school, that too one from a small village. Jagapur ZP School had 140 students studying from Class 1 to 8. It has a staff of three teachers. Headmaster Jagdish Jadhav, who has been serving here from last 19 years, it credited to have developed a beautiful premises which was once a barren land.
He is assisted by teachers Mahesh Suryawanshi and Nagesh Jogde. It is worth mention that while schools across the world is going the online way now after the COVID-19 pandemic, this small school had proposed online school 3 years ago itself. He had even held an on-line session for teachers in the State regarding on-line examination module. After the online examination system, now the ZP school has added another feather to its cap by becoming the first ZP school in Maharashtra to declare the school results on-line. The school had received motivation from Pramod Suryawanshi, District Education Officer (Primray) and co-operation from Sanjay Kamble, Pusad Panchayat Samiti's BEO, Amit Bojewar, Pusad IT Cell head and centre head, and Prakash Tekale, centre head of Shembalpimpri.
Headmaster Jagdish Jadhav is on a mission to train the ZP School children in such a way that they don't lag behind in the competitive world. The school takes up projects such as maintaining the garden and tree plantation, construction of wanrai weir etc. With the help of people, a handwash station has also been set up. Besides, the school has a library for kids to promote reading habits in them. The projects are successfully carried out with the dedicated efforts of teachers, informed Jadhav. Jadhav wants to increase the strength of teachers in school so that more projects can be planned for the students and make the institution an ideal one for all.