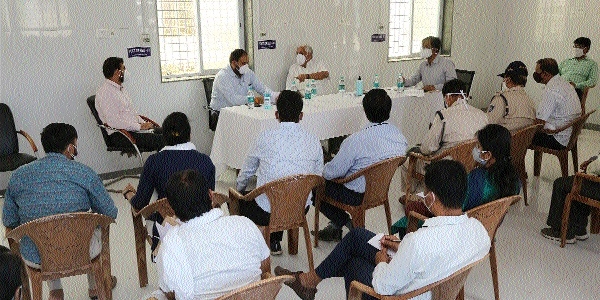 MLA Vishnoi giving instructions to senior officials during the meeting held at Patan Community Health Centre.
Staff Reporter :
MLA Ajay Vishnoi, along with Collector Karmveer Sharma, on Monday conducted inspection of community health centre at Patan and also held a meeting with concerned officials. They said the coronavirus infection would have be to curbed in all urban and rural areas of the district, hence officials must do micro planning and work on the field level. During the meeting, MLA Vishnoi said the community health centre must have at least 50 oxygen cylinders at a time along with necessary medicines. He also asked for pre-planning to shift serious patients and timely detection of covid patients so that they could be kept in home isolation.
He on the occasion also appealed to support Rogi Kalyan Samiti and Red Cross Society. MLA Vishnoi gave a cheque of Rs 1 lakh to the Samiti. Collector Karmveer Sharma directed senior officials to ensure all concerned teams must conduct door-to-door survey for protection from the dreadful virus and immediately provide medical kit to suspected persons. He also said that if more than 10 persons are detected to be covid-19 positive in any village, then it is sure that the village is under grip of coronavirus inspection. He asked the officials to ensure prescribed treatment and take action immediately in concerned areas.
During the meeting, the Collector also asked senior officials to ensure availability of all basic amenities like electricity, potable water and ration and pay additional attention to home isolation of suspected, asymptomatic and those having moderate symptom of covid-19 Amongst those also present during the meeting were SDM Ashish Pandey, Tehsildar, BMO, CEO Janpad Panchayat and other senior officials.