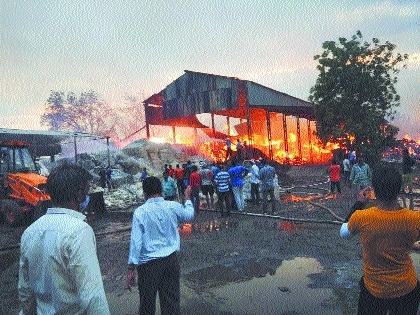 The fire-fighting operation under way at the paper mill on Monday.
Staff Reporter & Kalmeshwar Correspondent :
Third incident of fire in the company in last three years
A major fire broke out in Indus Paper Boat Company at Bazargaon on Amravati Road on Monday evening, around 50 kms from Nagpur. Nobody was injured in the incident but several hundred tonnes of raw material was gutted. As many as four fire tenders were struggling to douse the fire on factory premises. The company is a manufacturer of tissue paper and toilet paper rolls. Chief Fire Officer (CFO) of Nagpur Municipal Corporation (NMC) Rajendra Uchke informed that the fire broke out in raw material including waste paper and compressed bales at around 4 pm. The waste papers bales were stored in the tin shed and open premises.
After receiving information, two fire tenders from NMC, one each from Kalmeshwar and Wadi Municipal Council rushed to the spot and launched fire fighting operations. The bales of paper and the blowing wind caused the fire to rage for a long period. The fire fighters are trying to control the fire immediately so that it would not spread to the adjoining production area, which could result in heavy financial as well as environmental loss, CFO Uchke said. The fire fighting operation was continued till late in the night.
The NMC has dispatched two more fire tenders. The exact cause of the fire was not ascertained yet, he said. Sources claimed that many labourers were working in the company when the fire broke out in the company. Fire incidents are yearly events in the company for the last two years. This is the third incident of fire in the company. The company has a single fire hydrant system with a water tank and a pump. The company was established in 1993 and the present director of the company is Manoj Pachesiya who is resident of Bangalore as informed by company staff.