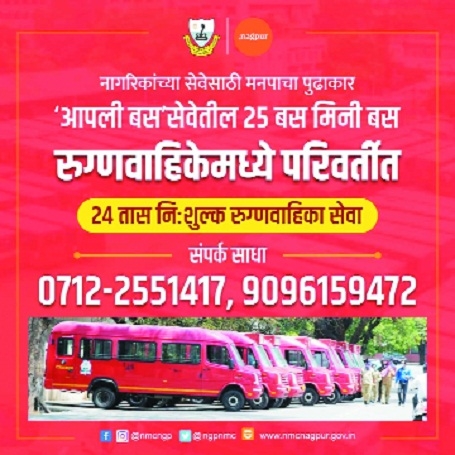 Fleet of city buses converted into ambulances by NMC.
Staff Reporter :
In a novel initiative, Nagpur Municipal Corporation (NMC) has converted 25 mini buses to ambulances to tide over shortage of vehicles in city. These vehicles would be deployed in ten zones and available 24x7 to Nagpurians and that too free of cost. Right now, many patients are facing delay in getting ambulance due to high demand. Also patient's relatives are being asked astronomical sums by the drivers for travelling few kms when they are already struggling to cope with pandemic. Taking serious note of these complaints, NMC has converted 25 mini buses in the 'Aapli Bus' service into ambulances.
Mayor Dayashankar Tiwari flagged off the buses from civic headquarters on Monday evening. The concept was proposed by Jitendra Kukde, former Chairperson, Transport Committee, NMC. Deputy Mayor Manisha Dhawde, Prakash Bhoyar, Chairperson, Standing Committee; Tanaji Wanve, Leader of Opposition; Jitendra Kukde, Member, Transport Committee; Mahesh Mahajan, Chairperson, Health Committee; Additional Commissioner Sanjay Nipane; Ravindra Bhelave, Transport Manager; Dr. Sanjay Chilkar, Medical Health Officer; Dr Vijay Joshi, Additional Medical Health Officer; Ravindra Page, Arun Pipurade, Yogesh Lunge, Vinay Bhardwaj, all officers of Transport Department, etc. were present. Citizens can book the ambulances on following numbers 0712-2551417, 9096159472. Mayor said there had been a number of complaints about ambulances on social media over the past few days. Citizens claimed that they charged Rs 5,000 to Rs 6,000 for two to three km and Rs 15,000 for four and ahead travel. Hence, NMC took immediate action to convert 25 mini buses into ambulances so that no one faces delay in reaching hospital in this time of crisis. Taking this concept positively, the civic administration immediately sanctioned the funds and hence within 10 days, 25 mini buses of the NMC were converted into ambulance.
Oxygen cylinders have been deployed in these ambulances and bus conductors are trained to administer oxygen. A cell has been set up in the Transport Department to provide information about the availability of these ambulances. Considering the stress on the Health Department, a separate mechanism has been set up for overseeing deployment of ambulances, said Mayor further. Girish Mahajan is nominated to oversee booking and deployment and provision of ambulances to citizens. Kukde said the bus operators have been directed by the Transport Department to take out health insurance of Rs 10 lakh each for bus drivers and carriers. In case any of the driver or carrier contracts novel corona virus, he will get the benefit of insurance.
All drivers and carriers serving the ambulance will continue to serve as COVID-19 warriors, he added. In particular, 75 drivers and 75 carriers have been appointed for the operation of 25 ambulances to provide 24-hour ambulance service to the citizens. Each carrier and driver will have a 6-hour shift so that they are not over stressed.