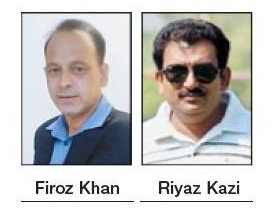 IT SHOULD be a matter of pride for Nagpur that a sport which originated in the city is getting recognition all over the world. And, as they say, charity begins at home, after seven years of its origin, dueball got due recognition as it got included in School Game Federation of India recently. A comparatively young sport, that can said to be a combination of handball, basketball, to some extent rugby and takes few rules from football and hockey, is a fast paced sport that can be played outdoors and indoors. But given the size of the ground required, presently the sport is played outdoors only. Other popular version of the sport is beach dueball. Dueball has been included in School Games Federation Of India (SGFI) for the coming season.
"We were trying for last couple of years for inclusion of the sport in SGFI. We kept on requesting for an orientation show and finally when its Observer saw the sport live, he was impressed and recommended to include dueball for upcoming session 2021-22 in the Under-19 age group for boys and girls," said Firoz Khan, among founders of the sport and presently Working President of the Dueball Federation of India while sharing journey of the sport with 'The Hitavada'. "Inclusion of dueball in SGFI is definitely a big achievement. It will benefit the students. It will be played in schools all over the nation and that will be a big boost to the sport as it will be played at grass root level. It will take the sport forward," Khan added. While the sport will get a lift at school level, dueball is already popular at world level. "As many as 25 countries in the world including 16 Asian countries are playing the sport and have proper associations which are affiliated to us. It all started in 2013 when we saw some children playing something different on a basketball court. The baskets had been broken and they marked a circle on the board and were aiming to hit it. It clicked to us that we can modify it and introduce a new sport and dueball was born.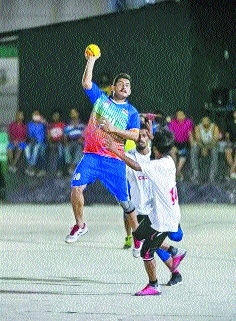 Indian skipper Shiv Rana going for a due.
"We hosted many state and national meets. Later we took the game out of the country and an invitational tour was organised at Pokhra in Nepal. Now, it is popular in neighbouring countries like Sri Lanka, Bhutan, Pakistan, Bangladesh, Indonesia, Malaysia, Maldives and UAE. "The then Bharatiya Janata Party (BJP) National President Nitinji Gadkari was our first-ever sponsor and contributed Rs 25,000. Chief guest for our first tournament was Sunil Kedar, presently Maharashtra Cabinet Minister for Sports and Youth Affairs, who was an MLA then. The sport had no looking back from there. "We are working hard under the leadership of Dueball Federation of India Chairman Vishal Kariya (Mumbai) and Secretary General Saiyyad Nawab Ali to take to sport to newer heights," said Riyaz Kazi, another founder member of the sport and Dueball Federation of India's Director for SGFI. The federation had planned an Asian meet in May but due to COVID, it has to be postponed.
"After successfully conducting many nationals, we were to host maiden Asian Championship this month only but due to the pandemic the event has to be postponed. All sixteen countries that play the sport had confirmed their participation. We were eagerly waiting for this event. We were confident that after this tournament, sponsors would come and we would organise a World Cup," Khan lamented. How the sport got its name has a funny story. "We were searching for a good name. Initially, we thought about naming it as targetball. Once we were sitting in a restaurant and having cold drinks. It was Mountain Dew. We are not so good in English and took 'dew' as 'due' (that is owed to you as a right) and named the sport as dewball. So the first name was in fact, dewball. But later, we were told that we got it wrong and then it was changed to dueball. The goals in the sport are termed as due," Kazi, who was also the brain behind selecting a proper ball for the sport, said. The ground is of 22m x 38m in size. Seven players including a goalkeeper form a playing team with five more in the full squad. A player has to score from outside the D and gets one due when the ball is shot inside the 60cm diameter hole carved out on the 1.2m square board. A match is 30-minute affair with two halves and a break of five minutes in between.